Elevating Charming Nova Scotia Artists and Businesses
Hey there Adventurer, just wanted to let you know that some of the links on this site may be Amazon Affiliate or affiliate links, . which means I may earn a small commission if you make a purchase after clicking on them. But don't worry, it won't cost you any extra – in fact, sometimes you may even get a special discount! So if you do decide to buy something through my links, know that you'll be supporting my work and helping me bring more helpful content your way. Thank you for your support, you're like a superhero to my work! I couldn't do it without you, unless I suddenly develop the ability to clone myself...which, honestly, would be pretty cool.
Explore Nova Scotia's vibrant identity and economy through local Nova Scotia artists and businesses. Uncover hidden gems that shape our province's essence. Join me for creativity and entrepreneurship at its best!
Hey there, wanderlusters and local enthusiasts! Welcome to a journey unlike any other – "Nova Scotia Explored: Unveiling Local Artists and Businesses." Ah, Nova Scotia, where the sea kisses the land and inspiration knows no bounds.
In this captivating blog, I'm about to pull back the curtain on the remarkable talents and enterprising spirit of Nova Scotia Artists and Nova Scotia Businesses. These creative minds are the heartbeat of our province, shaping its character and contributing to the tapestry of our economy. By highlighting their incredible work, we're not just showcasing their achievements – we're celebrating the essence of Nova Scotia itself.
Why should you dive into our adventure? Picture this: You're strolling through the picturesque streets, stumbling upon quaint shops that burst with local treasures, or stepping into a gallery that takes your breath away. By joining me on this exploration, you're not just reading words but immersing yourself in the stories that define Nova Scotia. Get ready to be amazed by the hidden gems that make our province truly shine – one brushstroke, one entrepreneurial endeavour at a time. Let's embark on this exciting quest to uncover the magic that resides within our community.
Entrepreneurial Ventures and Nova Scotia Businesses:
From quirky boutiques that capture the essence of our communities to forward-thinking post-secondary schools that are propelling us into tomorrow, our province is a hub of creative entrepreneurship.
Come along as I cast a spotlight on the passionate trailblazers who breathe life into these Nova Scotia businesses. These dedicated individuals transform ideas into reality, fueling their enterprises with unwavering determination and a touch of that unique Nova Scotian spirit. From bustling streets to online marketplaces, these entrepreneurs are the driving force behind our local economy, weaving threads of innovation and growth into the fabric of our province.
Join me in celebrating the dreamers and visionaries who shape our communities through their entrepreneurial endeavours. Through their hard work and ingenuity, they are creating a vibrant and dynamic landscape that reflects the heart and soul of Nova Scotia's business world.
Exploring a farmer's market is like discovering a treasure trove of micro-local businesses – from farms to crafters, and even microbreweries and microdistilleries. Among the gems I've had the pleasure of encountering are Wild, TapRoot Farms, and Kenndarr Farms. Since its establishment in 2016, Bryan from Wild has been crafting hard ciders from apples grown on the picturesque south mountain, wines and spirits. TapRoot Farms, nurtured by generational farmers Patricia and Josh, is a haven of organic produce and unwavering commitment to their CSA members. Meanwhile, the dynamic duo Taylor and Ben at Kenndarr Farms are first-generation farmers juggling their full-time jobs and passion for delivering delectable, well-cared-for meats embodying the east coast work ethic.
Venturing beyond farmers' markets, the entrepreneurial spirit of Nova Scotians shines bright. Take East Coast Lifestyle, for instance, founded by the visionary Alex Maclean in 2013 during his time at Acadia as a business student. What began as a humble project celebrating local pride transformed into a global sensation, with celebrities like Sidney Crosby and Ed Sheeran sporting the brand. This same indomitable spirit echoes throughout our province, a testament to the resilience and pride that define every true Nova Scotian, regardless of the challenges they face individually or as a community.
A Kaleidoscope of Nova Scotia Artists:
This province boasts an artistic landscape as diverse as its breathtaking scenery, ranging from age-old crafts to cutting-edge contemporary creations.
Embark on a journey that introduces you to the visionary minds behind the canvas, chisel, and stage. Meet Nova Scotia artists who bring magic to life through their paintings, sculptures, musical compositions, and mesmerizing performances.
Join me as I spotlight local luminaries who have etched their mark on our cultural canvas. From the sweeping landscapes captured by painters to the mesmerizing rhythms woven by musicians, these Nova Scotia artists add strokes of brilliance to our province's rich and ever-evolving artistic tapestry.
Get ready for a glimpse into the world of Nova Scotia artists in our upcoming spotlights! Meet ex-Navy turned painter Kelly Mitchelmore, creating art on giant canvases inspired by her hometown landscapes. Experiencing Nova Scotia's born and bred Mighty Mike's captivating Buskers Festival strongman performance, a 2023 People's Choice winner, was one of many delightful street performances one can witness (at the right time of year of course). Stay tuned as I uncover more talents like poetic explorer Steve Skafte, finding beauty in abandoned corners of the Bay of Fundy and Annapolis Valley. The spotlight awaits, with even more inspiring stories to come!
Coastal Creativity: Art by the Sea: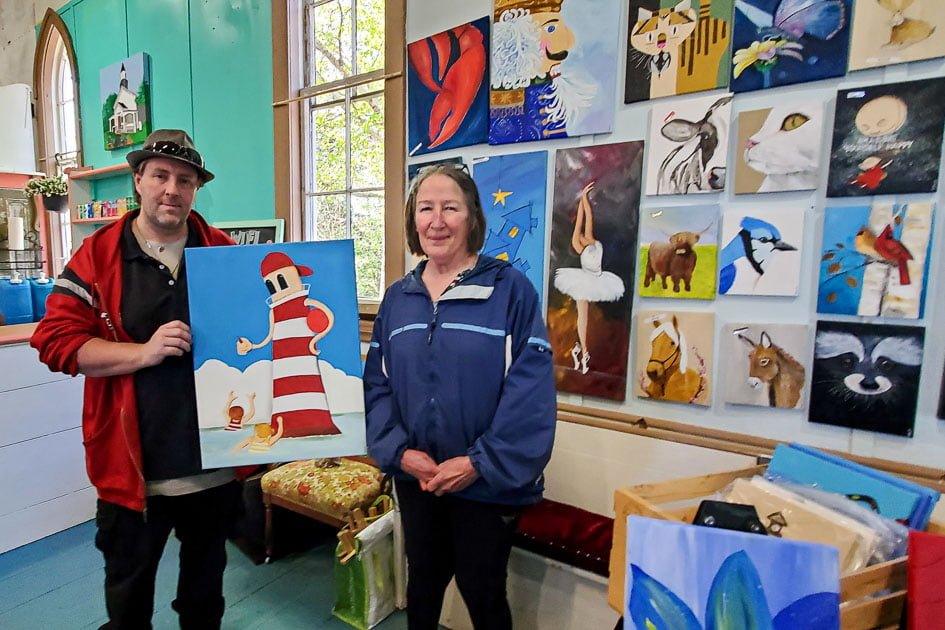 There is a captivating connection between the breathtaking Nova Scotia coastline and the imaginative minds of local artists. This dynamic interplay between nature's beauty and artistic expression has yielded a treasure trove of masterpieces that encapsulate the essence of our province.
Venture with me to enchanting coastal towns like Peggy's Cove, where the scenic harmony of land and sea has become a muse for countless Nova Scotia artists. Imagine strolling through these charming towns adorned with lighthouses that double as galleries, showcasing art that resonates with the very landscapes that surround them. Picture yourself owning a piece of this experience, a tangible memory to grace your walls and transport you back to the magic of Nova Scotia.
As I explore these artistic intersections along the coast, I'll share anecdotes of memorable encounters with both creators and creations, offering you a glimpse into the profound connection between art and place. Join me on a journey where the beauty of Nova Scotia's coastal vistas converges with the vision of talented artists, leaving an indelible mark on our hearts and homes.
Nova Scotia's Cultural Hubs: Artistic Communities and Neighborhoods: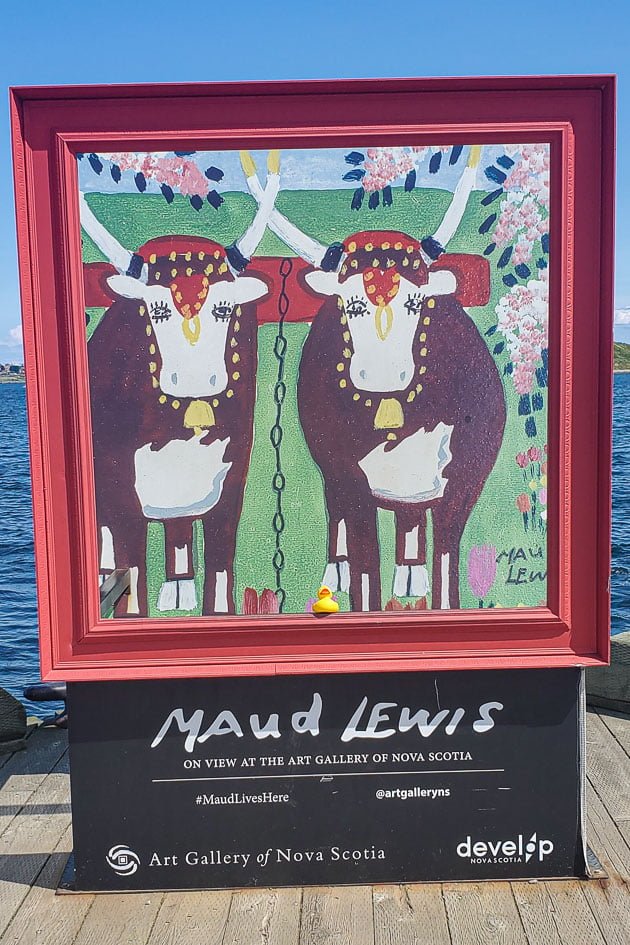 Embrace the rich tapestry of our province's heritage, where Mi'kmaq, French, Scottish, and British roots intertwine to fuel artistic expression and entrepreneurial zeal. These diverse cultural influences infuse our vibrant neighbourhoods and communities with a sense of history and creativity.
Take a stroll along the Halifax Waterfront, where the boardwalk comes alive with a harmonious blend of artistry and local commerce. Here, the synergy between Nova Scotia folk artists and businesses creates a thriving ecosystem that celebrates both craft and community. Beyond the city, you'll discover equally enchanting havens like Lunenburg, the Acadian Shore, and the legendary Cabot Trail, each offering a unique canvas for artists to flourish and weave their stories into the cultural fabric.
Join me as I explore these cultural hubs that radiate with the energy of creativity and innovation. From bustling streets to tranquil shores, these neighbourhoods stand as living testaments to the harmonious relationship between Nova Scotia artists and the communities that uplift and inspire them.
Embark on Your Nova Scotia Exploration:
Get set to embark on a personalized Nova Scotia adventure, where you'll uncover the magic of local artists and businesses that make our province shine. As you journey from coastal towns to cultural hubs, keep an eye out for the creativity that thrives in every corner.
Ready to roll? Plan an artsy road trip that takes you through vibrant neighbourhoods and charming communities. Don't miss the chance to immerse yourself in local events, markets, and even plein air festivals, where Nova Scotia artists capture our landscapes on canvas before your eyes.
So pack your sense of exploration, hop in the car, and discover the authentic essence of Nova Scotia. By supporting local artists and businesses along the way, you're not only creating memorable experiences, but you're also becoming part of the tapestry that weaves our province together. Happy travels!
READ MORE ON THIS TOPIC >> 46 Amazing Things to Do in Nova Scotia: Your Ultimate Bucket List for This Beautiful Destination!
Do you have a favourite Nova Scotia artist or business that you want to share with fellow Nova Scotia explorers? Share in the comments below.
F.A.Q
Who was the prominent folk artist in Nova Scotia?
The prominent folk artist in Nova Scotia was Maud Lewis.
Who was the female artist in Nova Scotia?
The female artist in Nova Scotia was Maud Lewis
What is Nova Scotia's status of the artist?
Nova Scotia boasts a diverse array of artists across various styles and genres.
Who is the naive artist from Nova Scotia?
Maud Lewis is recognized as a naive artist from Nova Scotia.