Nova Scotia Lighthouses: Guiding Your Maritime Adventures
Hey there Adventurer, just wanted to let you know that some of the links on this site may be Amazon Affiliate or affiliate links, . which means I may earn a small commission if you make a purchase after clicking on them. But don't worry, it won't cost you any extra – in fact, sometimes you may even get a special discount! So if you do decide to buy something through my links, know that you'll be supporting my work and helping me bring more helpful content your way. Thank you for your support, you're like a superhero to my work! I couldn't do it without you, unless I suddenly develop the ability to clone myself...which, honestly, would be pretty cool.
Have you ever gazed at a lighthouse and felt a tug at your soul? If you're drawn to the mystery and beauty of these coastal sentinels, my blog is your portal to a world where history, adventure, and maritime charm converge. Join me as I unravel the captivating tales behind Nova Scotia's lighthouses, and embark on a journey you'll never forget.
Nova Scotia, a province known for its stunning natural beauty, rich maritime history, and vibrant culture, is home to a remarkable treasure that has played a vital role in its seafaring past—the iconic Nova Scotia lighthouses. These tall, sturdy beacons have stood sentry along the province's rugged coastline, guiding ships through treacherous waters, and preserving the lives of countless sailors.
The very mention of Nova Scotia conjures images of picturesque lighthouses standing proudly against the backdrop of the Atlantic Ocean. They are not just structures but enduring symbols of resilience, hope, and maritime heritage. In this exploration of Nova Scotia lighthouses, I delve into the historical significance, the stories they hold, and the experiences they offer to those fortunate enough to visit.
A Maritime Legacy
Nova Scotia's relationship with the sea is deeply ingrained in its history and culture. As early as the 18th century, when European settlers established themselves along the province's coast, the need for navigational aids became apparent. The province's rugged and often fog-shrouded coastline presented significant challenges to sailors, making it crucial to mark safe passages and hazardous areas.
This necessity gave birth to the first Nova Scotia lighthouse, and it was a milestone in the province's maritime history. These beacons stood tall, casting their beams of light across the tumultuous waters, providing a lifeline to sailors seeking safe harbour and guiding them away from perilous rocks and shoals.
Stories of Nova Scotia Lighthouses
The Nova Scotia coastline is dotted with lighthouses, each with its own unique history and tales of bravery and resilience. One such beacon is the renowned Peggy's Cove Lighthouse. Perched atop granite cliffs, this lighthouse has become an international symbol of Nova Scotia. Its red and white structure stands boldly amidst a landscape of rugged beauty, a testament to the indomitable spirit of the province's people.
Louisbourg Lighthouse, located within the historic Louisbourg Fortress, has stood as a guardian of the fortress and its maritime interests for centuries. It witnessed the ebb and flow of history, from colonial rivalries to the age of sail, and its story is deeply entwined with the rich tapestry of Nova Scotia's past.
The Evolution of Lighthouse Technology
While the romanticism of lighthouses often conjures images of solitary keepers tending to the lamps, the reality is that these structures have evolved significantly over time. Nova Scotia lighthouses have embraced modern technology, transitioning from kerosene lamps and Fresnel lenses to automated systems and LED lights.
The shift towards automation has not only improved the efficiency of these beacons but has also changed the role of lighthouse keepers. Today, many lighthouses are unmanned, with remote monitoring systems ensuring their continued operation. However, the legacy of dedicated keepers who braved isolation and harsh conditions endures as a testament to the lighthouses' enduring spirit.
Exploring Notable Nova Scotia Lighthouses
Peggy's Cove Lighthouse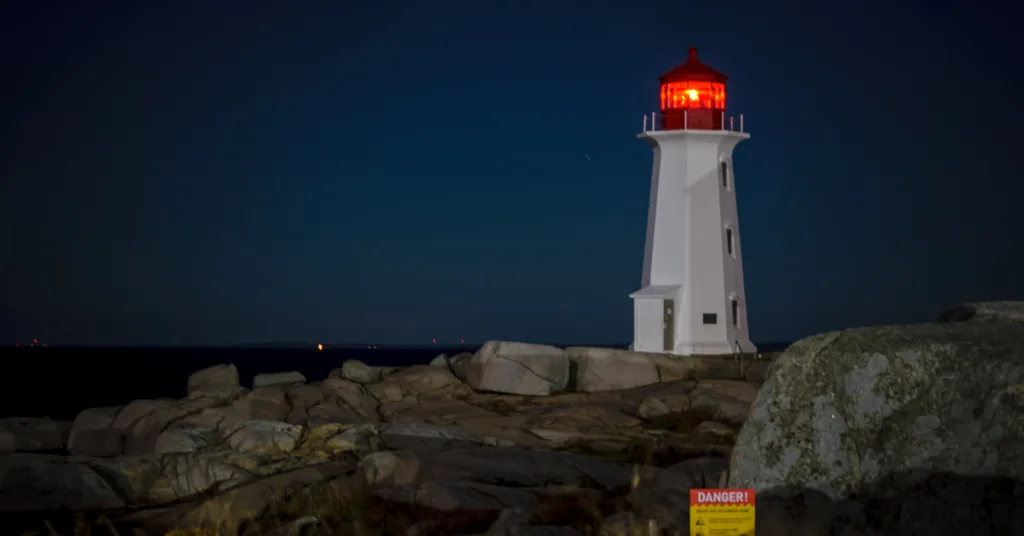 Peggy's Cove Lighthouse is a true icon of Nova Scotia. Located just a short drive from Halifax, it beckons visitors with its picturesque beauty. Perched dramatically on wave-washed rocks, it offers breathtaking views of the Atlantic Ocean. The lighthouse itself is a work of art, with its red top and white white body making it instantly recognizable.
Visitors can explore the lighthouse and the charming fishing village of Peggy's Cove, known for its unique coastal character and artisan shops. Be sure to arrive early to avoid crowds and savour the tranquillity of this mesmerizing place.
READ MORE>> Unleash Coastal Magic: 10 Must-See Sights in Peggy's Cove
Louisbourg Lighthouse
Situated within the historic grounds of the Louisbourg Fortress, the Louisbourg Lighthouse holds a special place in Nova Scotia's history. It not only guided ships but also served as a sentinel guarding against enemy incursions. Today, visitors can explore the restored lighthouse and learn about its vital role in protecting the fortress.
The Louisbourg Lighthouse offers a fascinating blend of history and natural beauty. As you stand on its grounds, you can almost hear the echoes of the past, where the waves of the Atlantic Ocean meet the whispers of centuries-old stories.
Sambro Island Lighthouse
Sambro Island Lighthouse, located near Halifax, holds the distinction of being Canada's oldest operational lighthouse. It has been guiding vessels safely since 1758. This iconic lighthouse stands on a rocky island, and the view from its lantern room is nothing short of breathtaking.
Visiting Sambro Island Lighthouse is a unique experience. While you can't access the lighthouse itself, boat tours offer fantastic opportunities to get up close and capture the lighthouse's historic charm against the rugged backdrop of the island.
Cape Forchu Lighthouse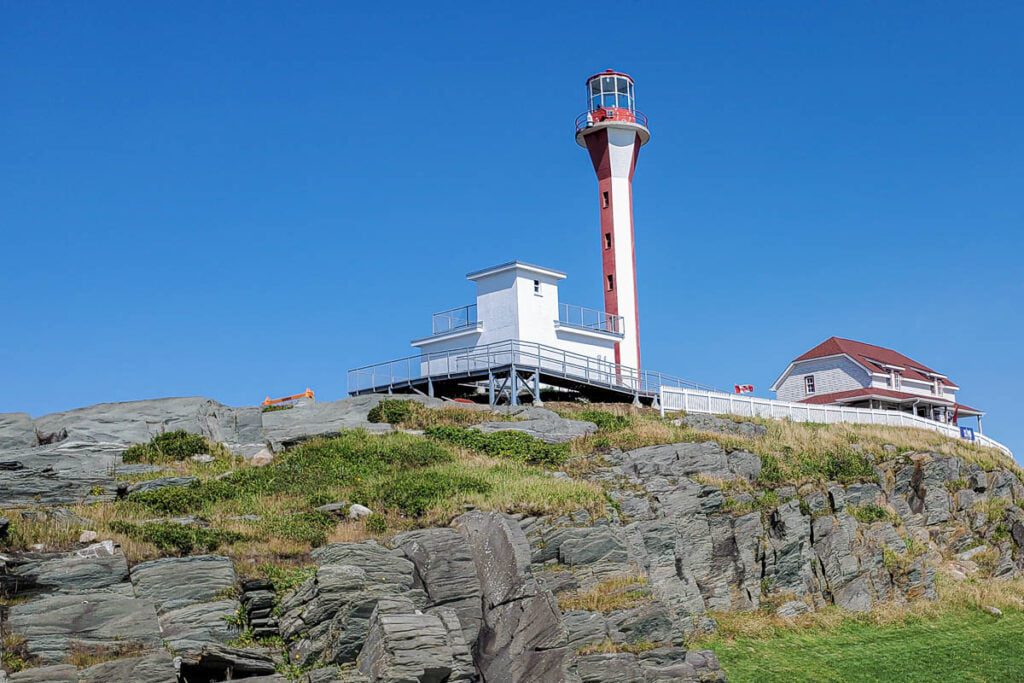 Cape Forchu Lighthouse, often referred to as the "apple core" lighthouse, is a striking example of modern lighthouse design. Located near Yarmouth, it features a unique and innovative structure that has become an architectural marvel.
Visitors to Cape Forchu can explore the lighthouse, its museum, and the scenic beauty of the surrounding area. The breathtaking sunsets over the ocean make it a popular spot for photographers and romantics alike.
The Role of Nova Scotia Lighthouses in Culture
Nova Scotia lighthouses have transcended their practical function to become symbols of the province's identity. They have found their way into local art, literature, and folklore. Painters capture their rugged beauty, authors weave tales of their keepers' bravery, and musicians serenade their enduring presence.
Lighthouses in Art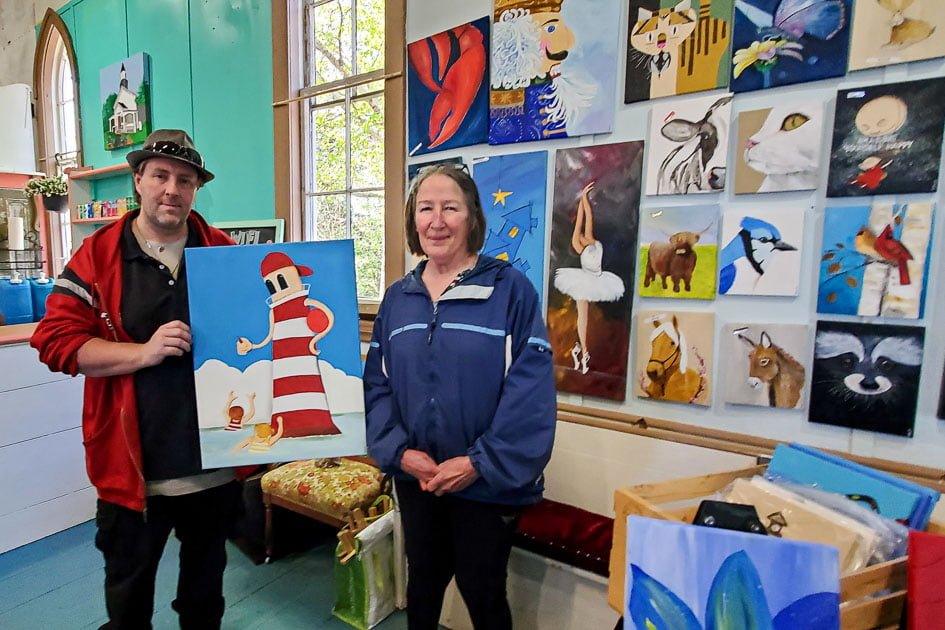 The rugged beauty of Nova Scotia's lighthouses has inspired artists for generations. Paintings and photographs capture the stark contrast of these structures against the wild sea and the changing hues of the sky. Local galleries often feature lighthouse-themed artwork, providing a tangible connection to Nova Scotia's coastal heritage.
Lighthouses in Literature
Lighthouses have served as poignant settings in literature, symbolizing hope, isolation, and the indomitable spirit of their keepers. The works of local authors often incorporate lighthouses as central elements, reinforcing their significance in the province's cultural narrative.
Lighthouse Festivals and Events
Throughout the year, Nova Scotia hosts a variety of lighthouse festivals and events. These celebrations pay homage to the province's maritime heritage and offer a chance for locals and visitors alike to immerse themselves in lighthouse culture. From music festivals to guided tours, these events provide a unique opportunity to experience the magic of Nova Scotia lighthouses.
Preserving Nova Scotia Lighthouses
Nova Scotia's lighthouses are not just monuments to the past; they are living history. They continue to play a vital role in ensuring safe navigation along the coast. However, preserving these iconic structures is a challenging endeavour. Harsh coastal conditions,
rising maintenance costs, and the transition to automated systems pose significant challenges.
Organizations and Initiatives
Several organizations and initiatives are dedicated to preserving Nova Scotia's lighthouses. They work tirelessly to raise funds, advocate for preservation, and engage the community in protecting these historic landmarks. One such organization is the Nova Scotia Lighthouse Preservation Society, which has been instrumental in preserving and raising awareness about the province's lighthouses.
Check out their lighthouse map & checklist, it will inspire a trip around the province to see them all.
Restoration and Maintenance Challenges
Restoring and maintaining lighthouses is no small feat. The harsh coastal environment takes a toll on these structures, requiring ongoing maintenance and restoration efforts. Many lighthouses have been lovingly restored to their former glory, thanks to the dedication of preservationists and the support of the community.
Preservation efforts often involve repairing masonry, repainting exteriors, and ensuring that the light systems remain in optimal condition. These endeavours ensure that Nova Scotia's lighthouses continue to shine brightly for generations to come.
How Tourists Can Contribute
Visitors to Nova Scotia can also play a role in preserving these historic treasures. By respecting lighthouse sites, following posted guidelines, and supporting local preservation initiatives, tourists can contribute to the ongoing protection of these beacons.
Moreover, by participating in lighthouse tours and events, tourists not only gain a deeper appreciation for the heritage of Nova Scotia but also contribute financially to their maintenance. It's a win-win situation where visitors get to explore these captivating structures and their contributions aid in their preservation.
Tips for Visiting Nova Scotia Lighthouses
Exploring Nova Scotia's lighthouses can be a magical experience, but a little preparation can make your visit even more enjoyable. Here are some tips to help you make the most of your lighthouse adventure:
1. Check Lighthouse Accessibility:
Before you embark on your lighthouse journey, it's a good idea to research the accessibility of each lighthouse. Some are easily reachable by car, while others may require a short hike or boat trip. Make sure you know what to expect at each location.
2. Plan Your Route:
Nova Scotia's lighthouses are scattered along the coastline, so plan your route in advance to maximize your time. Consider visiting lighthouses that are close to each other to make the most of your day.
3. Weather Matters:
Nova Scotia's weather can be unpredictable, so check the forecast before your visit. Some lighthouses are even more stunning in stormy weather, while others shine under clear skies. Dress appropriately and be prepared for changing conditions.
4. Respect Private Property:
While many lighthouses are open to the public, some may be located on private property. Always respect any posted signs and boundaries, and ask for permission if you're unsure about access.
5. Safety First:
Lighthouses often have steep stairs and rugged terrain. Take care when exploring the grounds, and watch your step. If you're climbing the lighthouse tower, follow any safety guidelines provided.
6. Capture the Moment:
Don't forget your camera! Nova Scotia's lighthouses offer incredible photo opportunities. Capture the scenic beauty and unique architecture, and don't be afraid to get creative with your shots.
7. Bring Binoculars:
Binoculars can enhance your experience by allowing you to get a closer look at the coastal wildlife and intricate architectural details of the lighthouse lantern rooms.
8. Visit Lighthouse Museums:
Some lighthouses have on-site museums that offer fascinating insights into their history and the lives of lighthouse keepers. Take the time to explore these exhibits and learn more about the maritime heritage.
9. Support Lighthouse Preservation:
Consider making a donation to local lighthouse preservation organizations or purchasing souvenirs from on-site gift shops. Your support helps ensure these historic structures are maintained for future generations.
10. Timing Matters:
Lighthouses often have specific visiting hours, so check ahead to ensure they will be open during your visit. Arriving early or later in the day may help you avoid crowds.
11. Share Your Experience:
Finally, share your lighthouse adventure with others! Whether through social media, your travel blog, or with friends and family, sharing your experiences can inspire others to explore these captivating coastal sentinels.
By following these tips, you'll be well-prepared to embark on your Nova Scotia lighthouses adventure and create memories that will last a lifetime. Enjoy your maritime journey and the beauty of these historic beacons!
Conclusion
As we conclude our journey through the world of Nova Scotia lighthouses, we are left with a profound appreciation for these enduring symbols of maritime heritage. They are more than just towering structures; they are storytellers, guiding lights, and cultural icons that connect us to Nova Scotia's past and present.
Nova Scotia lighthouses, from the iconic Peggy's Cove to the historic Louisbourg, have stood the test of time, weathering storms both natural and human-made. They serve as beacons of hope, guiding ships and spirits alike. Their evolution from traditional keepers to modern automation tells a story of adaptation and resilience.
These lighthouses are not mere relics of the past; they are an integral part of Nova Scotia's culture. They inspire artists, writers, and musicians to capture their essence, and they bring communities together through festivals and events.
But their future is not guaranteed. Preservation efforts are ongoing, and they need our support. Whether you're a local or a visitor, you can contribute to the preservation of Nova Scotia lighthouses. By doing so, you become a part of their ongoing legacy, ensuring that future generations can continue to marvel at these iconic structures.
So, the next time you find yourself along Nova Scotia's rugged coastline, seek out these guiding lights, hear their stories, and appreciate the history they represent. Nova Scotia lighthouses are more than just beacons in the night; they are beacons of our shared maritime heritage, illuminating the way for all who venture into their welcoming glow.
As we wrap up our maritime adventure exploring Nova Scotia's lighthouses, don't forget to share this post with your friends and fellow lighthouse enthusiasts – let's light up their day with our coastal discoveries!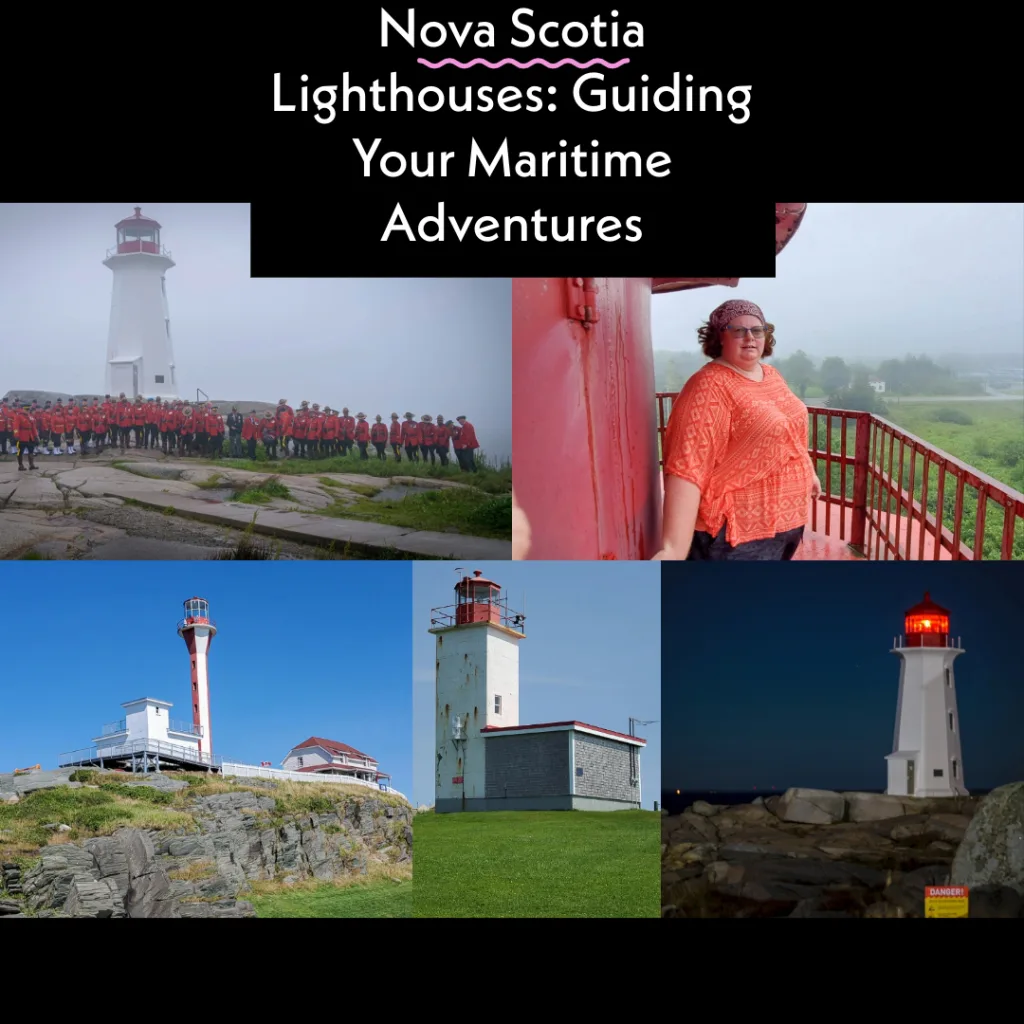 F.A.Q
How many lighthouses are there in Nova Scotia?
Nova Scotia is home to over 160 lighthouses, each with its unique history and charm.
Can you visit Nova Scotia lighthouses?
Yes, many Nova Scotia lighthouses are open to the public, offering tours and breathtaking views of the coastline.
What's the oldest lighthouse in Nova Scotia?
Sambro Island Lighthouse holds the title of Canada's oldest operational lighthouse, dating back to 1758.
Do lighthouse keepers still exist in Nova Scotia?
With the transition to automated systems, traditional lighthouse keepers are rare, but some lighthouses are still maintained by on-site staff or organizations.
Are there any haunted lighthouses in Nova Scotia?
Yes, some Nova Scotia lighthouses have gained reputations for being haunted, with ghostly tales passed down through generations.