Marine Drive Nova Scotia 11 Unforgettable Reasons to Explore
Hey there Adventurer, just wanted to let you know that some of the links on this site may be Amazon Affiliate or affiliate links, . which means I may earn a small commission if you make a purchase after clicking on them. But don't worry, it won't cost you any extra – in fact, sometimes you may even get a special discount! So if you do decide to buy something through my links, know that you'll be supporting my work and helping me bring more helpful content your way. Thank you for your support, you're like a superhero to my work! I couldn't do it without you, unless I suddenly develop the ability to clone myself...which, honestly, would be pretty cool.
If you're yearning for a coastal escape that combines breathtaking landscapes, hidden treasures, and unforgettable experiences, look no further than our guide to Marine Drive Nova Scotia. Your dream road trip awaits!
I'm super excited to take you on a virtual road trip along one of Nova Scotia's best-kept secrets – Marine Drive. If you're planning a visit to the Eastern Shore of Nova Scotia and have a thing for scenic routes, you're in for a treat!
Introduction to Marine Drive Nova Scotia

Marine Drive Map
Welcome to a coastal paradise like no other – Marine Drive Nova Scotia! If you're seeking a road trip that seamlessly combines stunning coastal vistas, delicious seafood, hidden gems, and unforgettable adventures, you're in for a treat. In this blog post, I'll be your guide through the enchanting Marine Drive, unveiling the wonders that await every traveller to Nova Scotia's Eastern Shore. So fasten your seatbelts and get ready for a journey that promises breathtaking views, mouthwatering cuisine, and memories that will last a lifetime.
Why Choose Marine Drive?
Now, you might be wondering, "Why Marine Drive?" Well, think of it as a curated journey through the heart of Nova Scotia's coastal beauty. It's not just a drive; it's a full-fledged adventure. From stunning beaches to charming heritage villages and breathtaking hikes, Marine Drive has it all.
Must-Visit Stops Along Marine Drive
Okay, let's get down to the nitty-gritty – the must-visit stops. First up, Lawrencetown Beach. It's a paradise for surfers and beach lovers, with its golden sands and crashing waves.
Now, I have to admit, I'm not the world's best surfer. In fact, I look more like a flailing seal than a pro surfer when I attempt to catch a wave. But even if you're not a surfing pro, Lawrencetown Beach offers a lot more than just riding the waves. You can take leisurely strolls along the shore, build sandcastles, or simply soak up the sun while watching the more skilled surfers ride the waves. It's a beachy paradise for everyone!
Then, there's Memory Lane Heritage Village, a living museum that'll transport you back in time to experience Nova Scotia's history up close. Now, I have a soft spot for history, and this place truly tugged at my historical heartstrings. You'll feel like you've stepped into a time machine as you explore the heritage buildings, chat with costumed interpreters, and immerse yourself in the past. It's like a real-life episode of a historical drama!
For nature enthusiasts, Taylor Head Provincial Park is a must. The hiking trails here offer some of the most spectacular coastal views you'll ever lay your eyes on. You don't need to be a hardcore hiker to enjoy these trails. In fact, I'm more of a "gentle stroll with a camera" kind of hiker, and this is on my must-do list next time I am on the Eastern Shore. The trails are well-maintained, and the scenery is nothing short of breathtaking. So, lace up those hiking boots and get ready for some Instagram-worthy panoramas!
And if lighthouses are your jam, you can't miss the Port Bickerton Lighthouse. Not only is it a maritime gem, but the views from the top are Instagram-worthy. Now, I have a confession to make – I'm a bit of a lighthouse geek. There's just something about those towering beacons of light that fascinates me. Port Bickerton Lighthouse didn't disappoint. The climb to the top was totally worth it for those panoramic views of the rugged coastline. Plus, it's a fantastic spot for some lighthouse-themed selfies!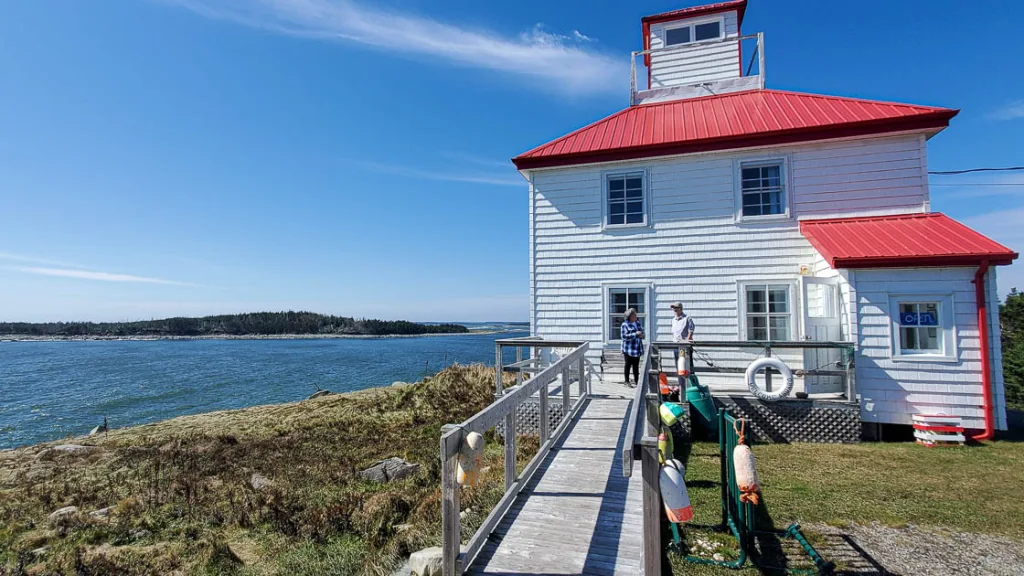 Lastly, the Canso Islands National Historic Site is a history buff's dream. Explore the remnants of a once-bustling fishing community and soak in the stories of the past. Now, I'll admit, I wasn't always the biggest history fan in school. But when history comes to life like it does at the Canso Islands National Historic Site, I'm all in. You can wander among the old buildings, peer into the past, and imagine what life was like for the hardy souls who called this place home. It's like stepping into a time capsule and getting a glimpse of Nova Scotia's rich maritime history.
READ MORE>> Discover Marine Drive with an Eastern Shore 3-Day Itinerary
Coastal Cuisine and Dining Experiences
Now, let's talk food. You can't explore Nova Scotia without indulging in some seafood, right? Along Marine Drive, you'll find local seafood delights that'll make your taste buds dance. From lobster rolls to scallops, the options are endless. And let me tell you, Nova Scotia seafood is in a league of its own. The freshness and flavour are out of this world. I could eat seafood here every day and never get tired of it. Whether you're dining at a waterfront restaurant or grabbing a snack from a seafood shack, you're in for a treat.
Try>> The Henley House in Sheet Harbour
But it's not just about seafood. There are charming cafés and bakeries where you can grab a coffee and a slice of pie while taking in the coastal views. Nova Scotia takes its coffee seriously, and you'll find some of the coziest little coffee shops along Marine Drive. Picture this: You're sipping a latte, watching fishing boats bob in the harbour, and enjoying a warm blueberry scone. It's the stuff of dreams!
Try>> Beanie's Bistro in Sherbrooke
And if you're into the farm-to-table dining experience, you're in luck. There are restaurants that focus on using fresh, local ingredients. Nova Scotia is known for its fertile farmland, and you can taste that freshness in every bite. Whether you're feasting on a farm-fresh salad or indulging in a hearty meal with locally sourced meats and veggies, your taste buds will thank you.
Try>> Seawind Landing Country Inn's Seasonal Menu
Outdoor Activities and Adventures
Feeling a bit adventurous? Marine Drive has you covered. You can try your hand at kayaking, go fishing, or simply relax on the beach and soak up the sun. Birdwatching enthusiasts will have a blast spotting various species, and if you're lucky, you might even spot some local wildlife. Now, I have to confess, that I'm not exactly the outdoorsy type. I mean, I love a good beach day, but the whole camping-in-the-wilderness thing? Not my cup of tea, although I am coming around to it. But even if you're like me and prefer a cozy hotel to a tent, there are plenty of ways to enjoy the great outdoors along Marine Drive.
If you've never tried kayaking before, this is the perfect place to give it a whirl. The calm waters of the Eastern Shore are ideal for beginners. You can rent a kayak and paddle at your own pace, exploring hidden coves and inlets. Trust me, there's something incredibly peaceful about gliding through the water, surrounded by the natural beauty of Nova Scotia.
RENTALS HERE>> Liscombe Lodge Marina
Fishing enthusiasts will find Marine Drive a haven for their favourite pastime. The St. Mary's River is renowned for its Salmon and Trout fishing opportunities, offering an authentic angler's experience. However, it's important to note that this area practices catch and release, and a fishing license may be required. If casting a line and waiting for the perfect catch is your passion, this spot promises an exceptional fishing adventure.
MORE INFO>> St Mary's River Association
Now, let's talk birdwatching. I'll admit, I'm no ornithologist. In fact, I can barely tell a seagull from a pigeon. But there's something strangely therapeutic about birdwatching. Along Marine Drive, you'll find some prime birdwatching spots. Grab a pair of binoculars, sit back, and observe the graceful movements of our feathered friends. Who knows, you might spot a bald eagle soaring high above or a large grey heron hanging out in shallow pools.
And if you're a wildlife enthusiast, keep your eyes peeled for glimpses of local wildlife. Nova Scotia is home to a variety of creatures, both on land and in the sea. Seals often sunbathe on rocky shores, and if you're lucky, you might spot a seal pup. Dolphins and whales occasionally make appearances, so keep your camera ready for those incredible moments when marine life pays a visit. There's something awe-inspiring about seeing these majestic creatures in their natural habitat.
Planning Your Marine Drive Adventure
Before you hit the road, let's talk logistics. The best time to visit Marine Drive is during the summer and early fall when the weather is just perfect for outdoor activities and the museums are open to the public. Nova Scotia summers are a dream – warm, sunny days and cool, refreshing ocean breezes. It's the ideal backdrop for your coastal adventure.
As for accommodations, you'll find a range of options, from cozy cottages to charming inns. Whether you're travelling solo, with a significant other, or with the whole family, there's a place that suits your style. Personally, I'm a fan of quaint bed-and-breakfasts. They often come with warm hospitality, homemade breakfasts, and insider tips from the hosts.
Travel and Safety Tips
Now, let's talk travel tips and safety. While Marine Drive is a relatively safe route, it's always a good idea to be prepared. Make sure your vehicle is in good working order, and keep an eye on weather forecasts.
Coastal weather can be unpredictable, so having some rain gear handy is a smart move. Also, be aware of wildlife on the roads, especially during dawn and dusk when animals are most active.
And here's a bonus tip: Don't forget to pack sunscreen! The sun can be surprisingly strong, and you don't want to end up looking like a lobster after a day at the beach.
Oh, and one more thing – keep your eyes peeled for local events and festivals that might coincide with your visit. Nova Scotians know how to throw a good party, and these events are a fantastic way to immerse yourself in the local culture. From seafood festivals to live music concerts, you'll find plenty of ways to have a blast along Marine Drive.
A Journey to Remember
So, there you have it, my friend – a sneak peek into the wonders of Marine Drive Nova Scotia. It's a road trip you'll remember forever, filled with stunning vistas, delicious eats, and unforgettable experiences.
As you traverse this stunning coastal route, don't forget to take your time, savour the seafood, and let the ocean breeze rejuvenate your soul. Capture those Instagram-worthy moments, but also take a moment to put the camera down and simply soak in the breathtaking views.
Remember, it's not just about the destinations but the journey itself. Those winding roads, hidden coves, and charming communities along Marine Drive will leave an indelible mark on your heart.
And who knows, you might stumble upon a hidden gem or a local story that's not in any travel guide. That's the beauty of exploring like a tourist in your own province or as a traveller in a foreign land.
So, as you plan your trip along Marine Drive Nova Scotia, I encourage you to embrace the unexpected, be open to new experiences, and cherish every moment. Whether you're travelling solo, with friends, or with family, this adventure is bound to create memories you'll treasure for a lifetime.
As for me, I'll be here, continuing my exploration of Nova Scotia, one blog post at a time. Until then, safe travels, my friend! And don't forget to share your Marine Drive adventures with me. I can't wait to hear all about it.
Remember, the road is calling, and the scenic beauty of Marine Drive Nova Scotia awaits. Happy travels, and may your journey be as incredible as the destination!
Share the wonders of Marine Drive Nova Scotia with your fellow adventurers, and let's inspire more travellers to embark on this coastal journey of a lifetime!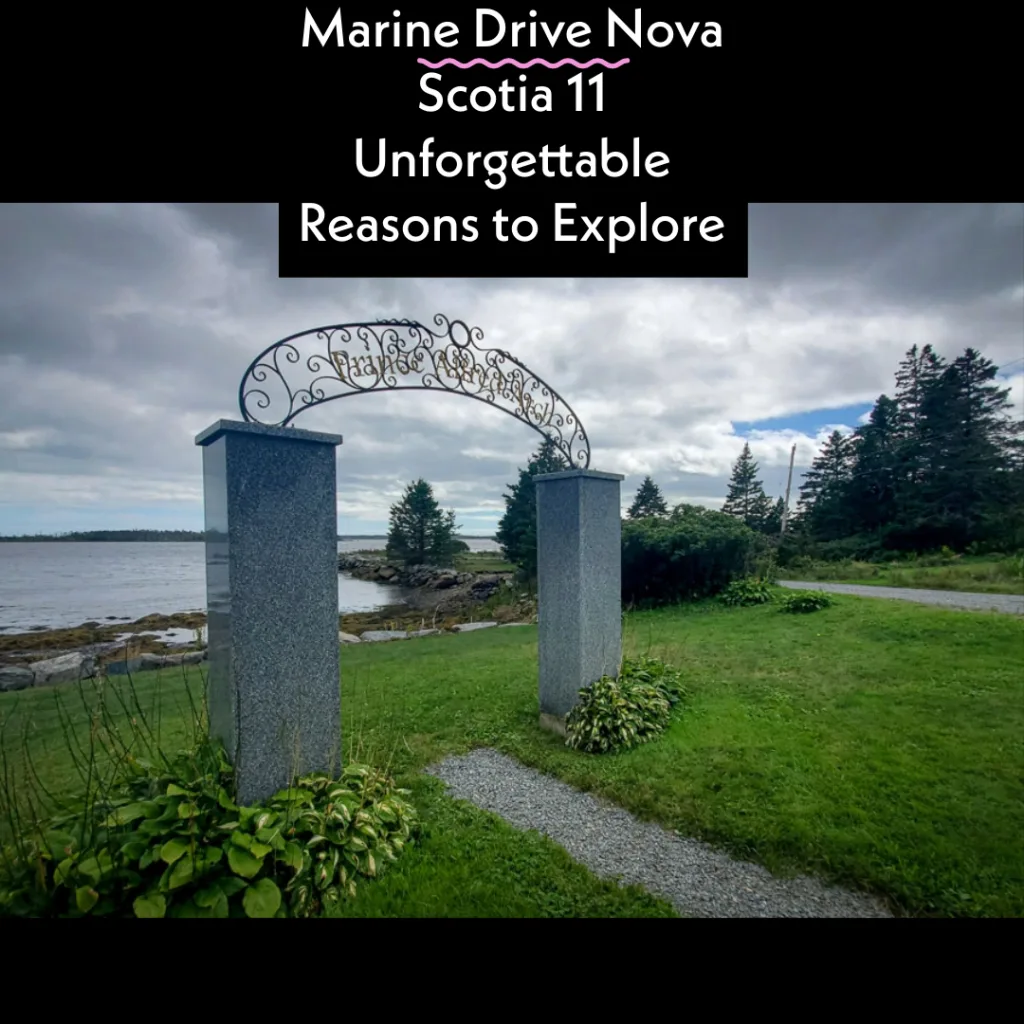 F.A.Q
What is Marine Drive Nova Scotia known for?
Marine Drive Nova Scotia is renowned for its stunning coastal landscapes, charming lighthouses, fresh seafood, and outdoor adventures like hiking and kayaking.
How long does it take to drive the entire Marine Drive route?
Driving the entire Marine Drive route can take approximately 5 to 6 hours without stops, but it's best enjoyed as a leisurely day trip or over a few days to explore all the attractions along the way.
What are the must-visit lighthouses along Marine Drive Nova Scotia?
Some must-visit lighthouses include the Port Bickerton Lighthouse, Sheet Harbour Front Lighthouse, and the Queensport Lighthouse, each offering unique coastal views and history.
Are there good hiking trails along Marine Drive?
Yes, there are excellent hiking trails along Marine Drive, with Taylor Head Provincial Park being a popular choice for its scenic coastal paths and panoramic views.
Where can I enjoy fresh seafood along Marine Drive Nova Scotia?
You can savour delicious seafood at local seafood shacks, restaurants, and even beachside stands. Don't miss trying lobster rolls at Lawrencetown Beach for a taste of Nova Scotia's finest.