Discover Marine Drive with an Eastern Shore 3-Day Itinerary
Hey there Adventurer, just wanted to let you know that some of the links on this site may be Amazon Affiliate or affiliate links, . which means I may earn a small commission if you make a purchase after clicking on them. But don't worry, it won't cost you any extra – in fact, sometimes you may even get a special discount! So if you do decide to buy something through my links, know that you'll be supporting my work and helping me bring more helpful content your way. Thank you for your support, you're like a superhero to my work! I couldn't do it without you, unless I suddenly develop the ability to clone myself...which, honestly, would be pretty cool.
Seeking an unforgettable 3-day escape that combines history, adventure, and relaxation? Look no further! Join me as we explore the Eastern Shore of Nova Scotia. From living history museums to hidden treasure hunts, from captivating coastal vistas to sandy shores, I've got it all. So, let's dive into an epic Eastern Shore 3-day itinerary filled with excitement and serenity. Ready to make memories? Let's go!

Eastern Shore Marine Drive Map
I've got something special in store for you, especially if you're planning to visit the breathtaking Eastern Shore of Nova Scotia. We're diving into an exciting Eastern Shore 3-day itinerary that'll make your trip an unforgettable adventure!
Whether you're an international traveller eager to explore Nova Scotia like a local or a resident looking for new ways to experience your home province, this itinerary has something for everyone. From historical gems to stunning natural landscapes, I'm about to uncover the hidden treasures of the Eastern Shore.
So, fasten your seatbelts (figuratively, of course) and get ready for an exciting journey through picturesque villages, iconic lighthouses, and sandy beaches. Nova Scotia's Eastern Shore has so much to offer, and I can't wait to show you every bit of it!
Day 1: Exploring Sheet Harbour and Liscombe Lodge
Are you ready to kick off your Eastern Shore 3-day adventure with a bang? Well, get your explorer's hat on because we're starting our journey on Day 1 with some exciting activities around Sheet Harbour and a cozy night at Liscombe Lodge.
First up, we're heading to Memory Lane Heritage Village, and let me tell you, it's like stepping into a time machine. You'll be transported back in time to experience the rich history of Nova Scotia in the 1950s. Think charming historic buildings, costumed interpreters, and a whole lot of fascinating stories. It's like a living history book right before your eyes!
But wait, the adventure doesn't stop there. I've got a little treasure hunt planned for you. Ever heard of Geocaching? It's like a high-tech scavenger hunt, and in Sheet Harbour, it's all about discovering hidden treasures and local stories. Grab your GPS or smartphone and get ready for some interactive fun! There is a series of 5 geocaches here found in the Adventure Labs Geocache App.
Now, picture this: you've explored history, hunted for treasures, and you're standing by the rugged coastline. That's where the Sheet Harbour Front Lighthouse comes in. This charming lighthouse not only guides sailors but also offers a breathtaking view of the Atlantic Ocean. It's like a postcard come to life!
After a day filled with adventure, it's time to unwind, and Liscombe Lodge is just the place for that. Nestled in nature's embrace, you'll check in for a relaxing night. But hold on, the culinary delight doesn't stop here. Liscombe Lodge Restaurant is where you'll savour local cuisine that'll tantalize your taste buds. Trust me; it's a delicious way to end your first day on the Eastern Shore.
So, my friend, get ready to immerse yourself in history, hunt for treasures, soak in coastal beauty, and indulge in local flavours. Day 1 is just the beginning of an incredible journey through the Eastern Shore of Nova Scotia!
Day 2: Sherbrooke Village and Lighthouse Exploration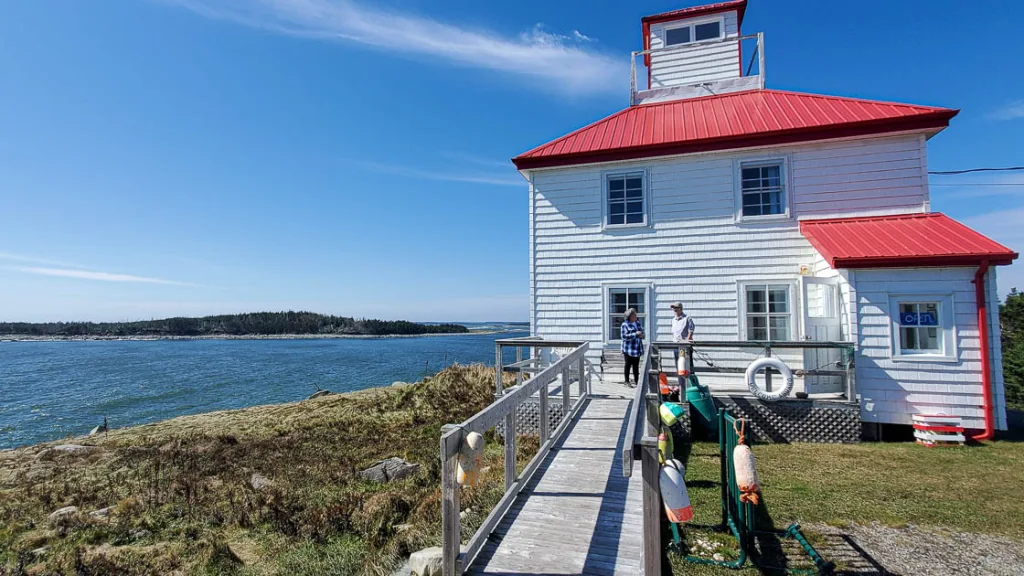 Day 2 of our Eastern Shore escapade is all set to be a blast. Today, we're diving headfirst into history, chasing treasures, and soaking in some stunning coastal views. So, let's get this show on the road!
First stop: Sherbrooke Village. Imagine stepping into a time machine that whisks you away to the 19th century. That's exactly what this living history museum does. It's like a movie set, but you get to be the star! You can immerse yourself in the 19th-century way of life, exploring old buildings and meeting costumed folks who bring history to life. It's educational and seriously fun.
Now, remember that Geocache Adventure Lab experience we started yesterday? Well, we're not done yet! Sherbrooke is the perfect place to continue our treasure hunt. It's like a game where you explore cool places while hunting for hidden gems. The best part? It's all outdoors, so you get to enjoy the fresh air and lovely surroundings.
After our treasure hunt, we're off to chase some more beauty – this time at Port Bickerton Lighthouse and Queensport Lighthouse. These iconic structures offer you stunning coastal vistas that'll make your camera very, very happy. The views are so breathtaking you'll feel like you're in a postcard.
PRINT YOUR LIGHTHOUSE CHECKLIST (compliments of the Nova Scotia Lighthouse Preservation Society)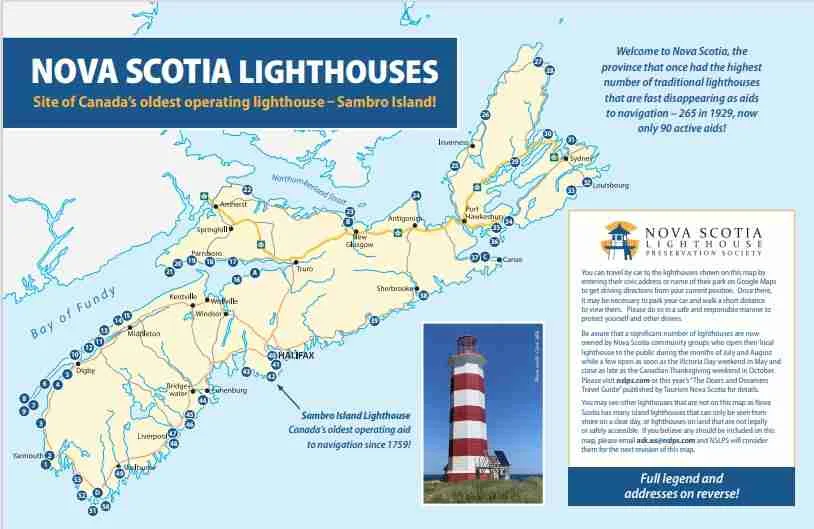 But we're not done with the day yet! Let's dive into maritime history at the Out of the Fog Museum. You'll get some fantastic insights into the region's seafaring heritage, and who doesn't love a bit of history?
Now, it's time to treat our taste buds. Big G's is a local favourite, and their menu is a delicious medley of flavours. Satisfy those hunger pangs with some fantastic food.
Finally, we're resting our adventurous souls at Seawind Landing Country Inn. Cozy accommodations and serene ocean views? Yes, please! It's the perfect way to end a day filled with history, treasure hunting, and coastal beauty.
So, my friend, get ready for a day packed with excitement and beauty. Day 2 is all about living history, treasure hunts, lighthouses, and a big dose of coastal charm. Enjoy every moment!
Day 3: Beach Day and Leisure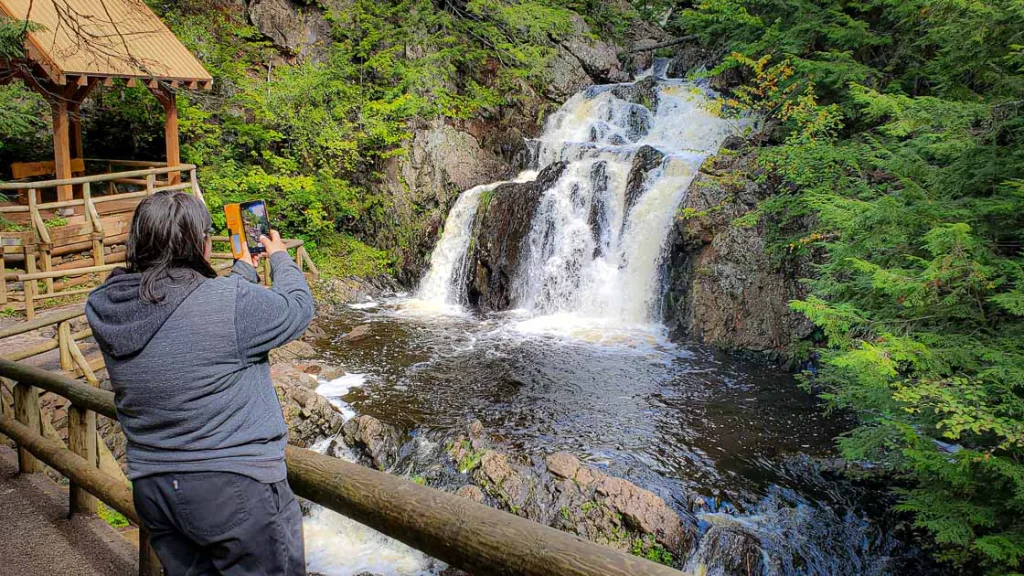 Hey, my beach-loving buddy, it's Day 3, and we're about to make some waves! Today is all about sun, sand, and serenity as we soak up the best as we leave the Eastern Shore and head for the Northumberland Shore. Why not make the most of your trip and see more of the province while driving back to your main base?
We're starting our day with a trip to Melmerby Beach near New Glasgow, and let me tell you, it's like stepping into a picture-perfect paradise. This stunning sandy shore is famous for its crystal-clear waters and breathtaking surroundings. Whether you're into swimming, sunbathing, or simply taking a leisurely stroll along the shoreline, Melmerby Beach has got you covered. It's pure beachy bliss!
After a morning of beachfront fun, we're off to Victoria Park in Truro. This place is a green oasis, and it's the perfect spot to unwind. You can relax under the shade of towering trees, have a peaceful picnic, or take a leisurely walk through the park's beautiful trails. It's a breath of fresh air and a moment of calm in the midst of all our adventures. I recommend taking the lower trail and finding the gorgeous waterfalls that await. If you are really adventurous you can climb the stairs from there and feel like you are on a tree-top adventure.
As the day winds down, take a moment to reflect on the incredible journey you've had over the past three days. From exploring history to hunting treasures, from lighthouse vistas to beachside bliss, our Eastern Shore 3-day itinerary has been a whirlwind of experiences. It's been filled with history, natural beauty, and local delights, and I hope you've made memories that'll last a lifetime.
Tips While Travelling the Eastern Shore
There are infrequent gas stations so make sure to gas up in the major areas (Sheet Harbour, Sherbrooke, Guysborough) even if you are only at half a tank. Day 3 when you go out of the Eastern Shore you will come across more frequent gas stations.
There are very few restaurants so pack snacks and lunches in a cooler. Maybe even breakfast and supper depending on your budget. You can get ice at the hotels. Again day 3 you will quickly be in an area where there is more amenities.
Don't be afraid to venture to things off your itinerary if they pique your interest while driving.
Call ahead to the restaurants and museums you want to visit as HOURS DIFFER for some of them from their online sites.
Other Stops of Note
Lawrencetown Beach, Lawrencetown Beach
Clam Harbour Beach, Lake Charlotte
Martinique Beach, East Petpeswick
Prince Alfred Arch, Tangier
Salmon Museum, Sherbrooke
Canso Causeway (the entrance to get to Cape Breton Island),
There are other look-offs and hiking trails depending on what you like to do, pick up an Eastern Shore adventure guide at a Visitor Centre.
READ MORE>> Unveiling Nova Scotia's Ultimate Itinerary: Discover, Explore, and Thrive!
Cheers to Your Eastern Shore 3-Day Adventure!
Well, my adventurous friend, it's time to bid farewell to our Eastern Shore 3-day itinerary adventure, but before we do, let's do a quick recap.
Our journey has been a delightful mix of history, outdoor excitement, and some well-deserved relaxation. From wandering through living history at Sherbrooke Village to hunting for treasures through Geocache Adventure Labs, from gazing at stunning coastal views at the lighthouses to basking in the sun at Melmerby Beach – we've covered it all!
This itinerary is the perfect introduction to the Eastern Shore of Nova Scotia. It's like a sneak peek into the heart and soul of this beautiful region. You've dipped your toes into history, embraced the natural beauty, and tasted the local flavours. And you know what? You've done it all with style and a sense of adventure.
So, as you embark on your own Eastern Shore adventure, remember to savour every moment, snap those photos, and make memories that'll last a lifetime. Whether you're a visitor from afar or a local looking to explore your backyard, the Eastern Shore has something special to offer.
Enjoy your trip, my friend! And until our next adventure together, keep exploring, keep discovering, and keep that camera ready for more amazing shots.
Download this Eastern Shore 3-Day Itinerary and get out there and explore this weekend.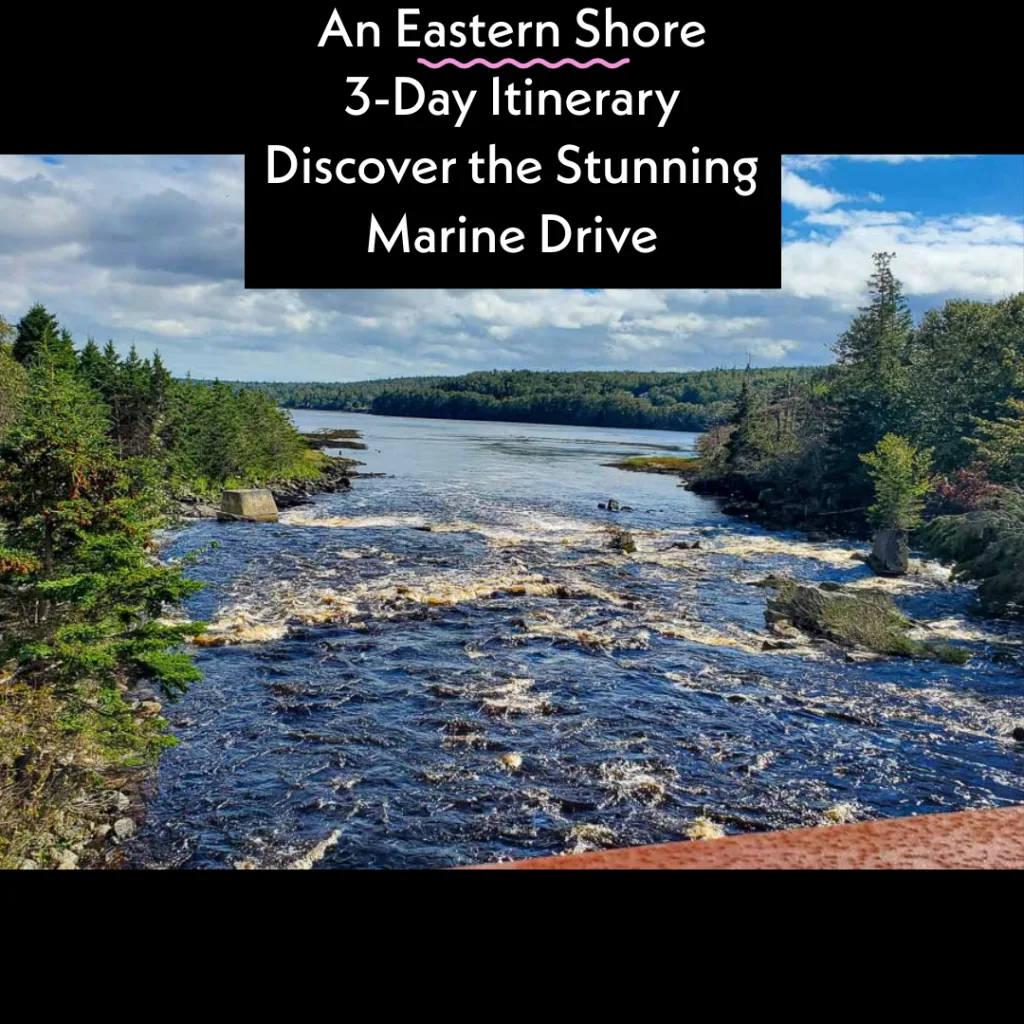 F.A.Q
What is the recommended duration for an Eastern Shore 3-Day Itinerary with Discover Marine Drive?
The recommended duration for an Eastern Shore 3-Day Itinerary with Discover Marine Drive is three days. This allows you to explore the stunning coastal scenery, charming towns, and attractions along the Marine Drive at a leisurely pace.
What are some must-visit attractions along the Eastern Shore 3-Day Itinerary?
Along the Eastern Shore 3-Day Itinerary, there are several must-visit attractions. Some notable ones include the Memory Lane Heritage Village, Margaree Salmon Museum, Sherbrooke Village and Port Bickerton Lighthouse. These attractions offer breathtaking views, outdoor activities, and unique experiences.
Are there any recommended accommodations along the Eastern Shore 3-Day Itinerary?
Yes, there are several recommended accommodations along the Eastern Shore 3-Day Itinerary. Some popular options include seaside cottages, charming bed and breakfasts, and cozy inns. It's advisable to book in advance, especially during peak travel seasons, to secure your preferred choice.
Can you provide some dining recommendations along the Discover Marine Drive route?
Along the Discover Marine Drive route, you'll find a variety of dining options to satisfy your taste buds. From fresh seafood restaurants serving lobster and scallops to cozy cafes offering local specialties, there's something for everyone. Some notable dining spots include Liscombe Lodge Restaurant, Henley House Pun and Restaurant, Beanie's Bistro, McDaniel's Tea Room and Big G's. Be sure to try some regional delicacies during your journey!