Inspiring September 2023 Adventures in Nova Scotia
Hey there Adventurer, just wanted to let you know that some of the links on this site may be Amazon Affiliate or affiliate links, . which means I may earn a small commission if you make a purchase after clicking on them. But don't worry, it won't cost you any extra – in fact, sometimes you may even get a special discount! So if you do decide to buy something through my links, know that you'll be supporting my work and helping me bring more helpful content your way. Thank you for your support, you're like a superhero to my work! I couldn't do it without you, unless I suddenly develop the ability to clone myself...which, honestly, would be pretty cool.
Step into the crisp, autumnal embrace of September 2023 in Nova Scotia, where every day unfolded as a new chapter in my exhilarating adventure. From enchanting hikes to unexpected encounters with lighthouses, join me as I recount the extraordinary tales of my unforgettable September 2023 adventures in Nova Scotia.
Saturday, September 2, 2023 – Fales River Trail, Greenwood (Region: Annapolis Valley):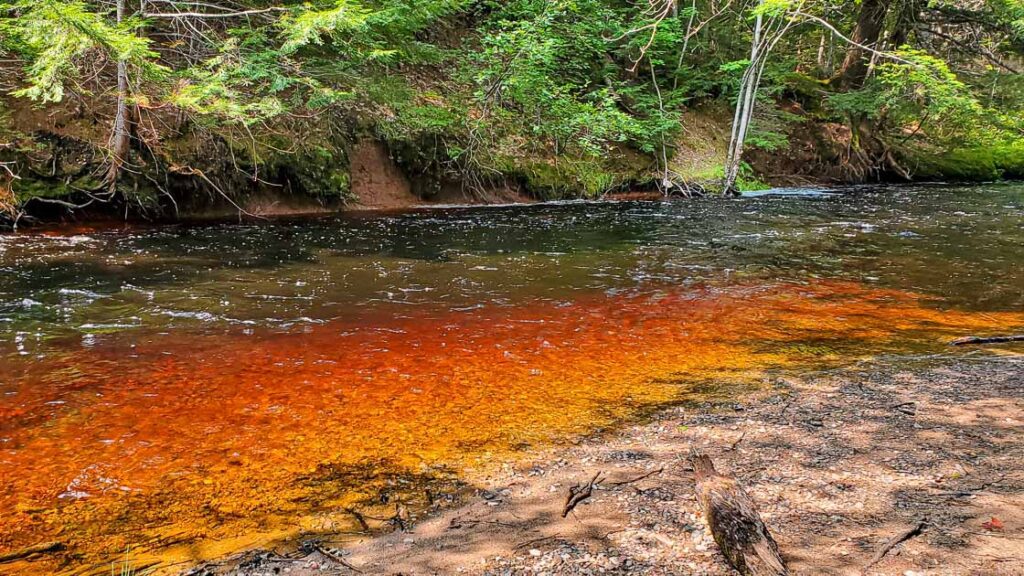 September 2023 Adventures in Nova Scotia Log:
Saturday always seems like a great day for a walk when there is nothing else going on. Today was one of those days, so I asked Monkey if he would go for a hike with me. The previous week we both enjoyed the Fales River Trail so much we wanted to go back to this magical place.
A Highlight of the Day:
This time we decided to not wander as much and stick to the loop to see how long it would take us. I am happy to say it was a 33-minute adventure in these enchanted woods. The great part about this is it makes it a viable option for my regular Saturday walk/hike while in stage 1 of my training for Cape Split.
Lessons Learned:
We decided to do the loop the opposite way of last time just for fun. Not going to lie, also a little bit because I didn't want to go up the small steep hill and thought going down would be easier. Lesson learned, going down is not always easier, I definitely had to plan my route down that small hill. I did it though and now continue to learn that I can face any challenge I set out.
Sunday, September 3, 2023 – Oaklawn Farm Zoo, Aylesford & Berwick Fireworks (Region: Annapolis Valley):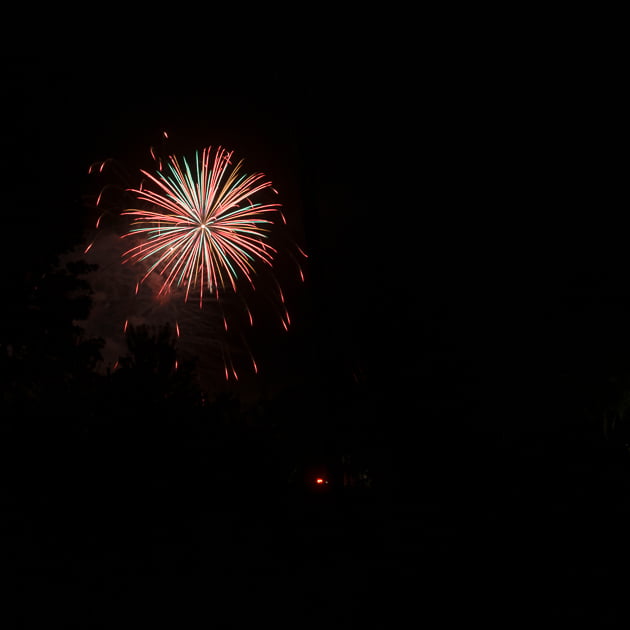 September 2023 Adventures in Nova Scotia Log:
The summer had gotten away from Monkey and me and we decided it was a good day to go to the Oaklawn Farm Zoo in Aylesford. After all, we have a season pass and haven't used it nearly as much as we anticipated. 
Being Labour Day weekend Berwick of course had their annual Gala Days Fireworks. It was high time I tried my hand at photographing them. Monkey and I drove into Berwick to do this, but the amount of people and lack of cars scared us away. We defaulted to our original plan and went to a spot on our road where we thought we might be able to see them.
A highlight of the Day:
The zoo was a welcome delight. It was a cooler day and most of the animals were quite active. The best part was checking in on the baby gibbon, who we have been following his growth since the spring. We came back and watched him several times playing with his brother, swinging around fearlessly and no longer quite attached to Mama.
The fireworks provided a highlight for me as well. Monkey was right of course we could see them for the most part from where we parked far away from everyone else. I was able to get some great shots of the fireworks and look forward to improving them next fireworks holiday we are available.
Lessons Learned:
Sometimes you have to make time to do the things you really want to. It only takes a morning to go to the zoo and we reap all the fun staying connected to all the animals we have grown to love. We always make excuses that there isn't time for an adventure when really exploring doesn't have to take all day.
Saturday, September 9, 2023 – Burlington Community Hall, Burlington, North Mountain (Region: Bay of Fundy)
September 2023 Adventures in Nova Scotia Log:
Two months after this active community set out to showcase the Horsepull Event it finally happened. I was so excited to get to this as I had never seen this type of event before and was very disappointed it was rained out on Canada Day and the few other times it had been rescheduled.
A highlight of the Day:
The best part is all my aunts and uncles from my father's side of the family were there and we took up half the stands, or so it seemed. It was so much fun to hang out with this side of the family and added to the event itself. We cheered on all 8 sets of horses and were so proud of them for the weight they could pull. Some were more enthusiastic than others but they all wanted to be there which is always a bonus when it comes to working animals.
Lessons Learned:
Through being at an event I was able to learn more about my family than I would necessarily at just a regular family gathering. It provided a different setting to interact and gave that common ground to have different conversations than I otherwise would have. 
I am a strong believer in the most rewarding social interactions being based on doing something together, like playing games or going to a horsepull. Sitting around and talking just doesn't seem to give the same rewarding build toward relationships and positive experiences. That may just be me though.
Tuesday, September 12, 2023 – Greenwood Aviation Museum, Greenwood (Region: Annapolis Valley)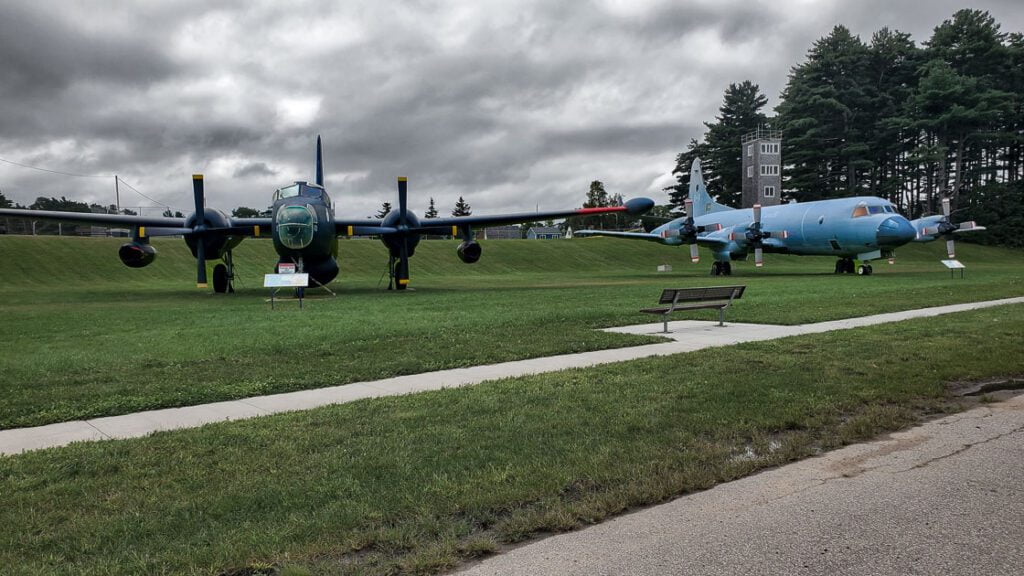 September 2023 Adventures in Nova Scotia Log:
Today I finally got to go to the Greenwood Aviation Museum. It happened to be closed but there are still a lot of planes outside with interpretive panels to learn all about Canada's airforce history. 
A highlight of the Day:
Today was a family highlight as well. Panda and I got to spend more time with our Uncles who were visiting from British Columbia. My favourite part of today was seeing my father and his brothers hanging out, something I didn't get to experience growing up because they were so far away so we didn't get to visit with them.
Seeing my father so happy is always something I cherish because he tends to be the type of person to go from one project to the next and I feel enjoyment gets lost along the way, at least from my perspective looking on.
Lessons Learned:
Take the time to do fun things whenever you can, especially with those you care about. Happiness and enjoyment are underrated and should be a priority. Again centering this around adventures really lets you get to know one another and connects you beyond yourself to either nature, culture or history depending on what you're doing which is powerful in its own way.
Sunday, September 17, 2023 – Day 1 of 3: Dartmouth to Liscomb (Region: Eastern Shore):
Morning Exploration:
Panda and I set off on our mini sister trip vacation and our first stop of the day was Lawrencetown Beach. We decided to check out the famous beaches of the Eastern Shore since our first planned stop was closed due to a power outage. This was the day after Hurricane Lee and there were some crazy waves. There were also some great interpretive panels to learn about the area from its history to its geology.
The next stop was Martinique Beach. The gate was closed because of the hurricane so we had to walk in from there. We only made it to the first and second of 8 parking lots. Panda and I could see how high the waves got the day before as rocks were all over the parking lot, that put into perspective how powerful this storm was. From what we explored it seemed like a beautiful beach and again it had some crazy waves. We were quite hungry by the time we got back to the car and decided to grab lunch before heading on.
Afternoon Delights:
The afternoon brought us to Clam Harbour Beach. The gate was closed here too, so we parked where it said only entrance. We ended up walking a long way down, and it turned out that around the corner was a closer entrance – good to know for next time. Panda and I saw some kite surfers here which was a very cool sight. It looked like a ton of fun. This beach was gorgeous and had amazing white sand, I could picture the famous sand castle contest that takes place every year.
As we kept driving towards our destination for the evening we saw a sign for Prince Alfred Arch and had to check it out. Prince Alfred Arch also known as Graeme Ferguson Memorial Park is in Tangier and has a memorial, beautiful picnic area and gorgeous view. I recommend holding off eating until you get here, we sure wish we had. There are interpretive panels to learn about this once-gold town.
Sheet Harbour was next up where we did a –Geocache Adventure Lab. This is a series of usually 5 places that allow you to discover the history of an area. This is where it took us: 
Macphee House Museum was closed but beautiful river behind it and interpretive panels outside to learn about the area.
Sheet Harbour West River a foot bridge over the flowing river rapids
Sober Island Brewing a female-owned brewery in Nova Scotia, closed because of a power outage
Sheet Harbour Cenotaph a war memorial
East River Bridge which used to be an arch bridge. This new one was put in in 2014-2015 and has nice lamp posts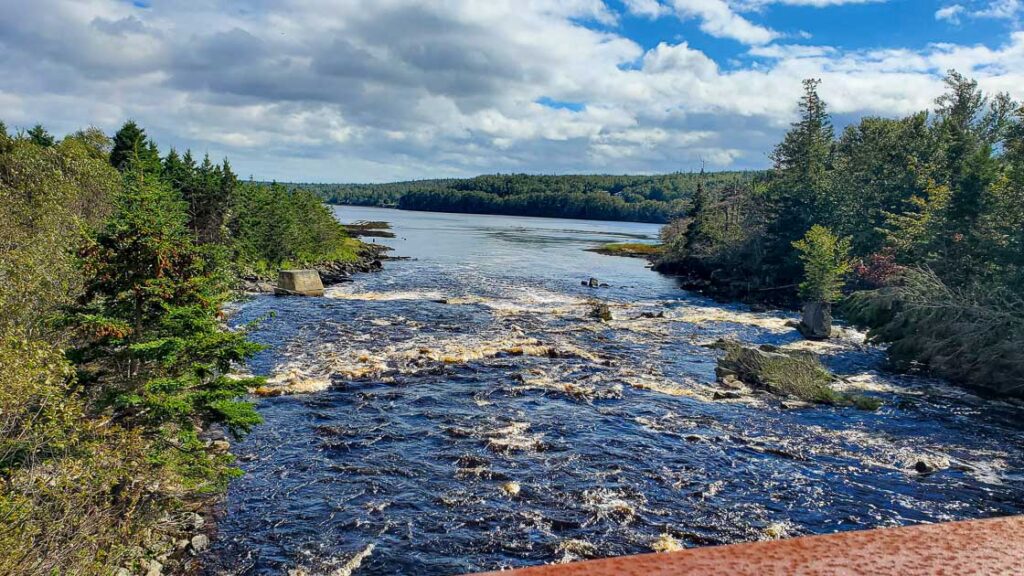 Our last stop before getting to our accommodations was the Sheet Harbour Front Lighthouse. This was way off the beaten path. As far as lighthouses go it was very much a letdown. There was no information about it once there and it was very small. The bright side is that it is now checked off the list!
Evening Adventures:
Just before 5 pm we made it to Liscombe Lodge where we would spend the night. When we arrived there was no power because of the Hurricane the day before. We were lucky and it came back on 30-45 minutes after our arrival. 
Panda and I went for a small walk before dinner around the grounds. We found a pretty river with a small set of falls. There was also a small marina on site but we couldn't use kayaks for some reason.
We ate dinner at the Liscombe Lodge Restaurant, we had planned this ahead of time as a treat to ourselves. We both enjoyed our meals very much. I had the seafood chowder to start and the venison and boar burger as my main. Panda had bacon-wrapped scallops to start and the duck as a main. We enjoyed some cheesecake that we took back to our room because we were stuffed. The prices were a little higher than your typical restaurant but we were expecting this.
Our room was one of the Liscombe Lodge cottages.  It was one of 4 rooms in this cottage. Despite the things out of their control, like not being able to swim because of the power outage and needing time to get the chemicals balanced, our stay here was very disappointing.
I would NOT recommend staying here at the prices they charge. There were things in their control that was appalling like the walls' and ceiling's paint was peeling and the bathtub was disgusting with pink mold all over it. Also to be able to enjoy the view from our room you will forgo privacy as the neighbouring room's entrance goes right past your window.  
Thoughts and Takeaways:
Overall the day ended up being a good first day of three. Despite things out of anyone's control because of Hurricane Lee we adjusted and were able to unwind at our first accommodation. The experience at Liscombe Lodge has taught me what I expect from a hotel when I am booking it and will look into reviews a lot better before proceeding with the place I choose to rest my head.
This experience taught me how to discern what to be legitimately upset about as there were many things that were out of the control of these places but also some things that were in control of places.
Monday, September 18, 2023 – Day 2 of 3: Liscomb to Guysborough (Region: Eastern Shore)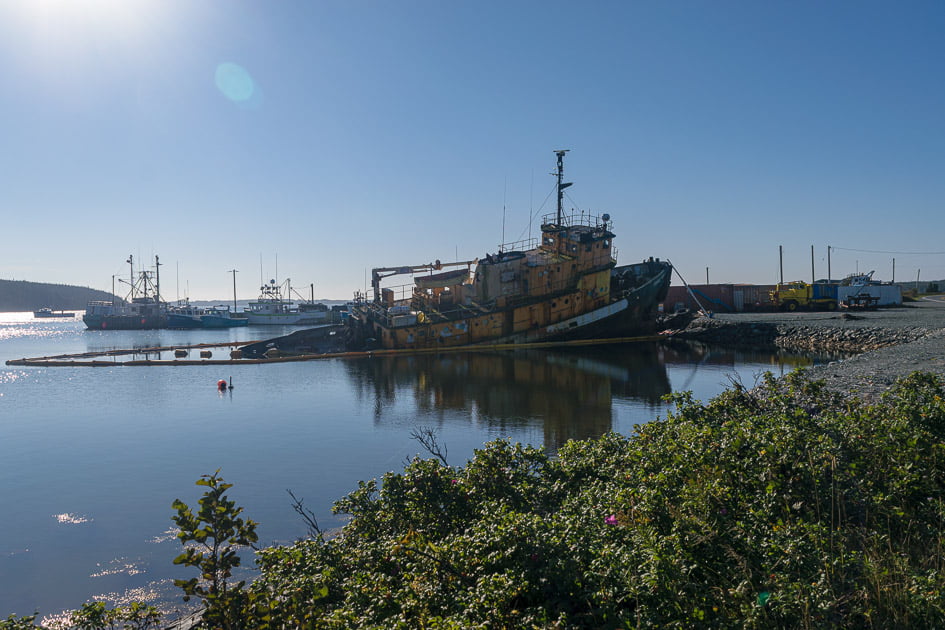 Morning Exploration:
Just before Liscomb we saw some deprecated fishing vessels, including one that was sinking and half on the shore. First thing as we were leaving Liscomb Lodge Panda and I went back to photograph these.
Then it was onward to our first stop which I was very excited about, Sherbrooke Village. However, to my disappointment, it was closed. This ended up being my bad as I looked at the schedule wrong. We ended up walking through the grounds anyway because all the gates were open and people were doing maintenance things. We were able to look in a few windows and see some of the things we missed out on because of my planning error.
Next up was another Geocache Adventure Lab starting right in Sherbrooke, so we didn't have to go far at first. The 5 stops included:
McDonald Bros. Sawmill- This seemed to be part of Sherbrooke Village with public access. It had an incredible view behind it and there seemed to be a trail across the street going to an old lumber camp that I will have to check out next time.
Salmon Museum- Since we had time we went in and learned all about Salmon and Trout. Not something I would have chosen to do but glad we did it.
Lights of the Past- This was on my list anyway, the Port Bickerton Lighthouse. This was actually a museum and had many walking trails around it. We had a guided tour from an older gentleman who was so knowledgeable. I climbed to the top of the museum lighthouse and was so proud of myself for doing this. The trails were closed though due to Hurricane Lee. This ended up being a perfect spot for lunch, so we ate here with a beautiful view of the harbour.
Afternoon Delights:
Loyalists have Landed- This was a parking lot that had interpretive signs about British loyalists from Florida settling in the area. There was a trail that led to more interpretive panels and buildings but we didn't do this hike. We had a semi-long way to go and we didn't want to miss out enjoying our next accommodations while there was daylight.
Gold Mining- This was a museum I believe but we never went in.
Out of the Fog Museum was a place we thought we had a deadline to get to. However, despite checking online in two spots it ended up being closed. We took pictures here and left. I have since found another spot online that said it was supposed to be open that day so this one really wasn't my planning error.
Queensport Lighthouse was our last stop before supper, this was one of the few lighthouses that are viewed from the shore. It was way out in the water on an island. Apparently, you can get ferried out there when it is the right time of year and I will have to make sure to do this next time I am there.
Evening Adventures:
After a short detour into Guysborough to attempt to get supper, we finally landed at our accommodations for the night, Seawind Landing Country Inn. First impressions were so much better than Liscombe Lodge, it was absolutely stunning property. Our room was head and shoulders better than the day before and the people were so much friendlier. We were able to walk out of our room to an area with chairs and a stunning view of the ocean. Panda and I both set out here to read while waiting for our dinner reservation.
As I said we attempted to get supper in Guysborough. We wanted to eat cheaper than a hotel restaurant. However despite researching this pizza place, Big G's, the only place to eat other than the hotel that was anywhere close in the area was of course closed. This meant we had to eat at the Seawind Landing Country Inn Restaurant. Our meals were very tasty but we had a few complaints. The prices were of course higher than a normal restaurant, the reason we wanted to avoid eating there in the first place.
Despite having to eat here in the end, we found that the portion sizes did not match the prices. The menu was extremely limited and had only one non-seafood option for the appetizer and the main dish. While most tourists want seafood, their flavours were very specific tastes and made it hard to want something from that menu. In these cases, a non-seafood option is a safe choice but the one option was very limiting.
I also found that the small amount of veggies that I got with my very tiny piece of cod, were frozen and not fresh. Very upsetting for the prices and atmosphere they had. While I hands down totally recommend staying overnight here I do not recommend their restaurant.
Thoughts and Takeaways:
The day was gorgeous, really couldn't have asked for better weather. The events unfolded in a very different way. I knew staying frustrated would not help anything so let go early on and just went with things as they happened. Because I went with the flow I learned that Salmon don't necessarily come back to their spawning ground right away once they go to the ocean. I also reminded myself that I could do what I put my mind to, that ladder in the lighthouse was no joke. The reward of that was the view and was so worth it.
Tuesday, September 19, 2023 – Day 3 of 3: Carlos Cove to Home (Regions: Eastern Shore & Northumberland Shore):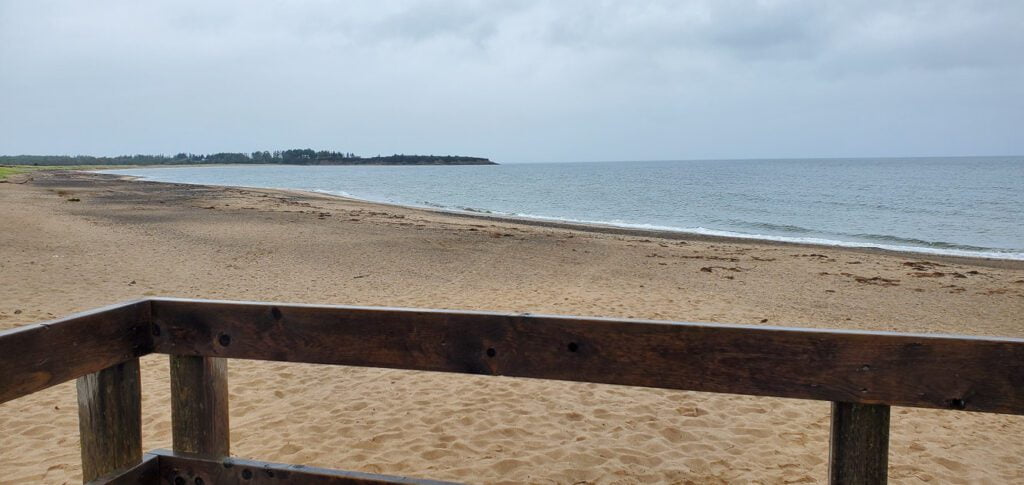 Morning Exploration:
First up today was heading over to the Northumberland Shore and stopping in at Melmerby Beach. Monkey had taken me here before and I wanted Panda to see this beautiful sandy beach. By the time we got there, it was still raining. The washrooms and changerooms were open, which was a surprise and welcomed as I needed a pit stop. We popped out to the beach on the boardwalk, took a couple of pics and headed back to the car.
I want to note that, unfortunately, we did not complete the Marine Drive scenic route as the GPS doubled us back further than anticipated to cross over the interior to reach the New Glasgow area. As I already have many things for the next time, it will also be to complete driving the entire Marine Drive scenic route. I did get to see my first ever King Fisher, so that was super cool.
Afternoon Delights:
Over the next few hours the rain cleared up on our way to Victoria Park in Truro. I hadn't been here in years and wanted to see the falls, especially since it had been such a wet year I knew they would be flowing well. The first thing we did was grab a picnic table and eat lunch near our car.
Since I hadn't been here in years I took a look at the trail map before proceeding to the falls and was reminded just how many trails in this captivating park there are.
It was a longer walk than I anticipated but we had no other planned stops before home so this was fine. Not to say it was a far walk but I had expected it to be 5 to 10 minutes. It ended up being 45 minutes but we did really take our time because we knew we could.
The plan was to head straight for home but we were going to need gas one more time. I wanted to get out of Truro a little ways and once we hit Stewiacke it was decided we would stop here. It was to get gas initially but decided to grab an ice cream and visit Marvin the Mastodon, who you can see from the highway. We read the interpretive panels and learned about the Mastodon discovery in 1991 and the Mi'kmaw history of the area. If you have never been here I highly recommend stopping in, there is even Mini Putt at the right time of year.
Evening Adventures:
We ended up getting home close to supper time which matched when we reached the end of our drive each day.
Thoughts and Takeaways:
The highlight of the day would be Victoria Park. I forgot just how pretty of a walk this was on the main trail by the brook formed by the falls. Hard to believe this oasis of nature exists within the busy town of Truro.
The weather ended up being gorgeous despite heavy rain in the first half of the drive. It was a bittersweet day. We were headed home so that meant the end of our mini vacation. However, we still enjoyed seeing more of what Nova Scotia had to offer. Tired and happy is how we finished our time away.
Saturday, September 23, 2023 – Berwick Library, Berwick (Region: Annapolis Valley)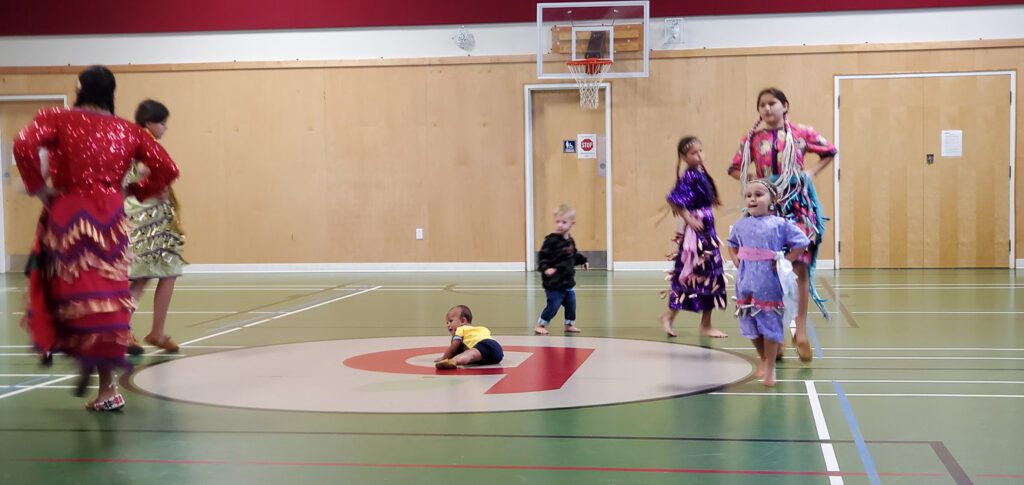 September 2023 Adventures in Nova Scotia Log:
My local library hosted an event that showcased some Mi'kmaw culture. Bear and I attended this event which opened with cleansing the body and spirit with something like sage. The elder did an opening of events in a sense with a lovely hand drum song.
We then headed back to the gym and watched a delightful performance by some very talented young ladies who did a few dances in their jingle dresses which date back to only the early 1900's, at the time of the Spanish flu. Next, they did a few dances in their gorgeous shawl dresses.
After enjoying this demonstration very much we headed over to taste some traditional soup called Three Sister Soup. It was very tasty I must say. During this time we talked to a gentleman by the name of Lorne Julien who is a very talented Mi'kmaw artist. He has done some murals throughout the province and we were able to get a glimpse of his art after our snack.
Lastly, we went to the craft station where we took some supplies home for me and Panda to complete an orange shirt pin, meant to be worn on Truth and Reconciliation Day. We also were given supplies for a wigwam to be decorated any we saw fit but suggested to be inspired by nature.
A highlight of the Day:
Talking to Lorne Julien was such a highlight. To learn a little about his life and how important art is to him was such an insight into how another creator finds inspiration.
Lessons Learned:
Today I was reminded just how much the Mi'kmaw people incorporate celebrating life into their culture. This makes me want to celebrate more often in my life, even the small things.
Thursday, September 28, 2023 – Harbourville & Bay of Fundy (Region: Bay of Fundy)
September 2023 Adventures in Nova Scotia Log:
It was finally Monkey and my's turn to head out on my father's boat. We headed to Harbourville's public launch at about 8:45 a.m. and launched by 9:30 a.m. It was my job to hold the rope and make sure the boat didn't float away as we launched off the trailer and well let's just say I should have worn my rubber boots.
Despite some wet feet, the three-hour or so boat cruise was amazing. We headed over to the Isle Haute, which you can see from my parents' place but is deceivingly further than it looks. We got to see the side that we can't see from their place but then the fog rolled in fast. This meant we were not able to cruise by the other side close up.
While a little disappointing I am glad that we made it through the fog safely. We came out of the fog and cruised by the cliffs of the mainland, going past my parents' place which was quite awesome to see from the water side.
After some lunch and playing with the fish-finding radar, we headed back to Harbourville to go home. I faced my fear of crazy ladders for the second time this month and it wasn't so bad!
A highlight of the Day:
Believe it or not the highlight of today was getting my feet wet. It pushed me to deal with it and move on. Something that keeps being tested and gets easier to deal with each time.
Lessons Learned:
The biggest thing I learned today was that knowing the tides really matters when you are launching and taking a boat out of the water in tidal waters.
While I heard Dad talk about this and that is why only certain days and times could work for the boat ride, it was quite evident today. The level of the water when we docked the boat briefly to grab the trailer changed drastically within a 10-15 minute period. This could really interfere with bringing the boat around the dock to get it in, had the water gotten too shallow from the tide going out. If you miss your window to come in, you are stuck being out there for a few more hours so you better hope not only do you have enough supplies to be okay but that the weather doesn't turn on you either.