Gear Up for Adventure: What Every Hiker Needs in Their Backpack
Hey there Adventurer, just wanted to let you know that some of the links on this site may be Amazon Affiliate or affiliate links, . which means I may earn a small commission if you make a purchase after clicking on them. But don't worry, it won't cost you any extra – in fact, sometimes you may even get a special discount! So if you do decide to buy something through my links, know that you'll be supporting my work and helping me bring more helpful content your way. Thank you for your support, you're like a superhero to my work! I couldn't do it without you, unless I suddenly develop the ability to clone myself...which, honestly, would be pretty cool.
Picture this: You're standing at the trailhead, the sun's peeking over the horizon, and you're raring to go on your next hiking adventure. But wait! Do you have all the right gear stashed in your backpack? Let's explore the ultimate checklist of hiking essentials that'll ensure your outdoor escapades are nothing short of epic.
Are you planning an adventurous hike but feeling overwhelmed about what to bring? Don't worry, we've got you covered! In this blog post, we'll provide you with an essential gear checklist for hikers, highlighting the must-have items that will make your hiking experience both safe and enjoyable. Whether you're a seasoned traveller or a fitness enthusiast looking for a new challenge, this checklist will ensure you have all the necessary things to bring on a hike. So, let's dive in and discover what items deserve a spot in your hiking backpack!
Why is it important to pack the right gear?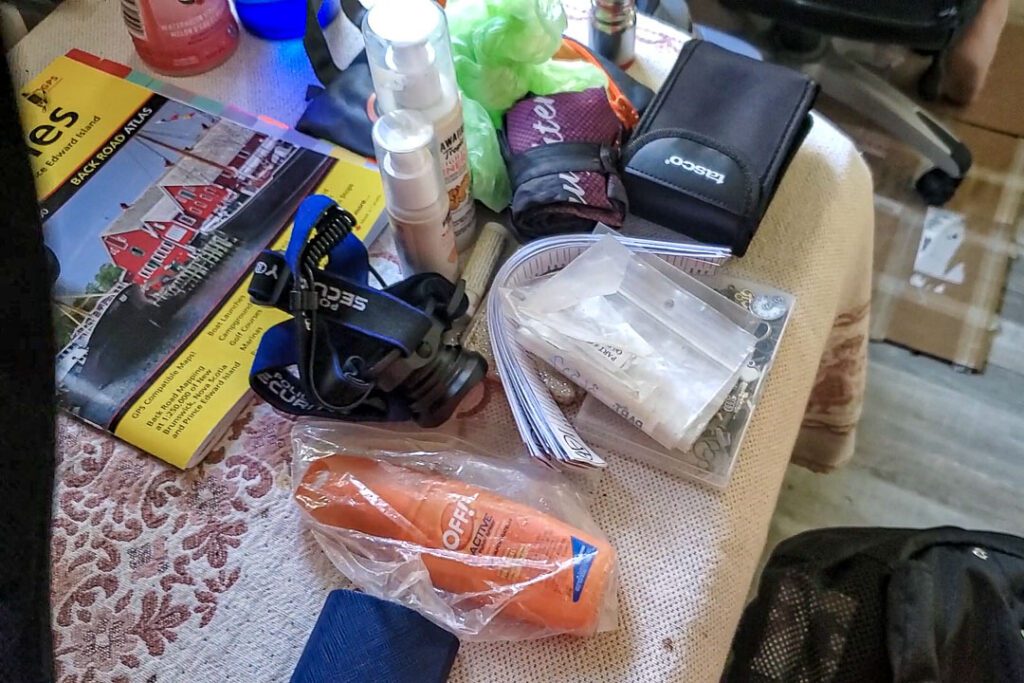 You know, when you're gearing up for a hike, packing the right stuff is like preparing for an epic adventure. It's not just about being practical; it's about making sure your day outdoors is comfortable and safe. So, let's talk about the key things to bring on a hike.
First off, comfy shoes! I learned this the hard way with a pair of sneakers that left my feet screaming for mercy. A good pair of hiking boots with sturdy soles is a game-changer. Next, hydration is a must. I always bring my trusty water bottle because ain't nobody has time for dehydration. Snacks, too! Trail mix, granola bars, or even a sandwich can keep those energy levels up. Oh, and don't forget sunscreen and bug spray unless you want to turn into a lobster or a mosquito's all-you-can-eat buffet.
But here's the deal: the right gear isn't just about comfort; it's about safety. A map or GPS can keep you from getting lost in the wilderness. And a basic first-aid kit can be a real lifesaver. So, before you hit the trail, check your list and make sure you've got all the things to bring on a hike. Trust me, it'll make your outdoor escapades a whole lot more enjoyable.
Essential Gear for Beginners
1. Proper Footwear
Alright, let's start with the basics, shall we? Proper footwear is like the foundation of a good hike. I learned this the hard way when I attempted a rocky trail in my sandals. Big mistake! So, invest in some comfy hiking boots or sneakers if you go for lighter hikes, with good traction. Your feet will thank you. Trust me, it's one of the first things to bring on a hike.
2. Weather-Appropriate Clothing
Mother Nature can be a bit unpredictable, right? That's why it's crucial to dress for the occasion. If it's sunny, slap on some sunscreen and a hat. If it's chilly or rainy, layer up with a waterproof jacket and maybe a cozy fleece. Being prepared for the elements is definitely one of the key things to bring on a hike.
3. Navigation Tools
Getting lost in the woods might sound like an adventure, but it's not the fun kind. That's where navigation tools come in handy. A simple map and compass or a GPS device can be your best friends on the trail. They'll keep you on the right path and make sure you're not wandering around aimlessly. Many trails don't have great cell reception and navigation on your phone uses up your battery fast so, don't forget to add these to your list of things to bring on a hike.
All Trails is an excellent app for hiking, you can get trail maps and download them before you go or even print them just in case.
4. Extra Food and Water
Hiking can be quite the calorie burner, and you don't want to run out of steam halfway through your trek. Pack some extra snacks like trail mix, energy bars, or a sandwich. And water, my friend, is an absolute must. Dehydration is no joke, so make sure you've got enough H2O to keep you going. The rule of thumb is 1 litre of water for every 2 hours so investing in a water bladder is a great idea to save space or a trusty water bottle or two work well also. These are essential things to bring on a hike to keep your energy up.
5. First Aid Kit
Accidents happen, even to the best of us. That's why a basic first aid kit should always be on your hiking checklist. Bandages, antiseptic wipes, tweezers (for those pesky splinters), and pain relievers can be real lifesavers. Hopefully, you won't need it, but it's better to be safe than sorry, right? Make sure a first aid kit is among the things to bring on a hike.
Optional Gear for Beginners
1. Trekking Poles
Alright, let's talk optional gear for your hiking adventure. One thing you might consider bringing is a pair of trusty trekking poles. Now, when I first started hiking, I thought these were just for the hardcore mountaineers. But let me tell you, the more I hike the more I realize how amazing these things would be, they're like magic sticks for your legs. They can help with balance, take some strain off your knees, and even turn you into a hiking wizard. So, if you want that extra support on the trail, add trekking poles to your list of optional things to bring on a hike-I know they are on mine!
2. Sun Protection
Now I know these things are in the essentials list too but it bears repeating, trust me I am a redhead. When you're out there on a sunny day, you'll definitely want to think about sun protection. A good ol' hat can keep your noggin from getting sunburned, and sunglasses will save your eyes from the glare. And don't forget the sunscreen, my friend! Slather that stuff on like it's your secret weapon against UV rays. If you're planning a hike in the great outdoors, sun protection should be on your list of optional things to bring on a hike.
3. Insect Repellent
Ah, bugs. They're the uninvited guests of the hiking world. If you're like me and you'd rather not have a mosquito feast on your arms and legs, consider bringing some insect repellent. Trust me; it's a game-changer. Spray a little on your exposed skin, and those pesky critters will think twice before making you their snack. So, if you're not a fan of becoming a bug buffet, insect repellent is a nifty addition to your optional things to bring on a hike.
Advanced Gear for Experienced Hikers
1. Lightweight Backpack
Alright, my friend, let's talk about some advanced gear for those seasoned hikers out there. One thing that can make a world of difference is a lightweight backpack. You see, when you're on a longer hike or even an overnight adventure, every ounce counts. A good lightweight backpack is like your trusty sidekick, carrying all the things to bring on a hike without weighing you down. It's got plenty of pockets for organization and can even handle a hydration reservoir to keep you sipping on the go. So, if you're a hiking pro looking for that extra edge, a lightweight backpack should definitely make it onto your list of advanced things to bring on a hike.
READ MORE>> Discover Everything about Daypacks for Travel Adventures
2. Portable Water Filter System
Now, imagine this scenario: You're deep in the wilderness, the sun's beating down, and your water bottle is running on empty. That's where a portable water filter system becomes your best friend. It's like having a magic wand that turns murky stream water into crystal-clear refreshment. With one of these gadgets, you can quench your thirst without worrying about nasty waterborne critters. If you're an experienced hiker who loves venturing off the beaten path, a portable water filter system is a must on your list of advanced things to bring on a hike.
3. Emergency Shelter
Alright, let's talk about a real safety net for the pros out there. When you're tackling those remote and rugged trails, an emergency shelter can be a lifesaver. It's like your own cozy cocoon that shields you from the elements when things take an unexpected turn. Whether it's a sudden downpour or an unplanned overnight stay, having an emergency shelter in your backpack can turn a potentially dire situation into a more manageable one. If you're a seasoned hiker who loves exploring the wild unknown, an emergency shelter is a smart addition to your list of advanced things to bring on a hike.
Seasonal Consideration
Summer
Ah, summertime hiking, where the sun's shining, the birds are singing, and the trails are calling. When it comes to things to bring on a hike during the summer, it's all about staying cool and hydrated. Pack those breathable, moisture-wicking clothes, and a wide-brimmed hat for shade, and don't forget the sunscreen! It's like armour against the sun's fiery rays.
And speaking of hydration, bring extra water because the heat can turn you into a thirsty camel. A trusty water bottle or hydration reservoir should be your hiking buddy. Oh, and toss in some insect repellent too because those pesky bugs love a summer feast as much as you do.
Autumn
Now, fall hiking, is my absolute favourite! The leaves are changing, the air is crisp, and the trails are a magical explosion of colours. When it comes to things to bring on a hike in autumn, think layers. Start with a lightweight base layer and add a cozy fleece or jacket that you can easily shed as you warm up.
Don't forget a toque and gloves to keep your noggin and fingers toasty. And hey, those trails can get a little slippery with fallen leaves, so bring trekking poles for extra stability. Plus, a thermos of hot cocoa or apple cider can be the cherry on top of your autumn adventure. Trust me; it's worth the extra weight in your backpack.
Winter
Winter wonderland hikes, anyone? If you're venturing out in the cold, you'll want to load up on warm gear. Start with thermal base layers to trap in that precious body heat. Insulated, waterproof boots are a must because nobody likes cold, wet toes. Don't forget a good pair of snow goggles to shield your eyes from the snow's blinding glare. And, of course, pack extra layers, hand warmers, and a thermos filled with piping-hot soup to keep those winter chills at bay.
Oh, and let's not forget about traction. Slip-on cleats for your boots can be a real lifesaver when you're trekking on icy trails. So, bundle up and embrace the frosty beauty of winter hiking, but don't forget the things to bring on a hike to keep you cozy and safe.
Spring
Springtime hikes are when nature awakens from its winter slumber. It's all about that fresh, green revival. When thinking about things to bring on a hike in spring, be ready for a little unpredictability. Layer up with a waterproof jacket because April showers are a real thing, my friend.
And the trails can get muddy, so don't shy away from those waterproof boots. Spring also means blossoms and allergies, so toss some allergy meds in your first aid kit. Plus, a wide-brimmed hat to shield you from those spring showers and sunshine. And if you're lucky, you might stumble upon some early wildflowers. So, embrace the season of renewal, but be prepared for whatever Mother Nature throws your way with the right gear.
Packing Tips
Let's dive into some practical packing tips because, you know, even the most exciting hike can turn into a bit of a mess without the right organization. So, here are some friendly tips on how to pack those essential things to bring on a hike like a pro.
First up, consider using a checklist. It's like your trusty hiking companion. Before the big day, jot down all the items you need to bring. You could even download my free Hiking Gear List to make sure you don't forget anything. It's like a game of mental Tetris, making sure everything fits.
Once you've got your list, start laying out your gear. I like to visualize my backpack as a puzzle, and each item has its own perfect spot. Essentials like your map, compass, or GPS? Top priority, right where you can reach them. Snacks and water? Easy access, too. It's all about efficiency.
Now, let's talk about protecting your gear from the elements. You never know when a surprise rain shower might hit, or when you'll accidentally take a tumble into a stream (hey, it happens to the best of us). That's where dry bags and zip-lock bags come to the rescue. Wrap your electronics and essential documents in zip-locks, and stow your clothes in dry bags. They're like magical waterproof shields for your stuff. And, trust me, a soggy sandwich or a waterlogged phone is no one's idea of a good time on the trail.
Your gear is protected from the elements so now it is time to get it all in your daypack. You will want to put the biggest items on the bottom or closest to your back. Next, you add things in priority that you will want to access, for example, snacks then water bottles on top of that. In the pouches, you should keep small things like your sunscreen and bug spray for quick access.
Remember, good packing is like a well-orchestrated symphony of organization, making sure you've got all the right things to bring on a hike at your fingertips when you need them. Happy hiking!
Safety Reminders
Safety on the trail is like having a good hiking buddy; it's always better when you know someone's got your back. So, let's chat about some friendly safety reminders to make sure you're well-prepared with all the things to bring on a hike.
First off, before you even lace up those trusty hiking boots, it's crucial to let someone know your plans. Call up a friend, or family member, or even leave a note on the kitchen table telling them where you're going and when you expect to be back. It's like having a safety net in case anything goes awry. Plus, they'll worry a whole lot less knowing you've got your ducks in a row.
Now, once you're on the trail, stick to marked paths whenever possible. It's like following the breadcrumbs to grandma's house, only the breadcrumbs are well-maintained trails. Venturing off the beaten path might seem adventurous, but it can lead to unexpected challenges.
Second always remember those things to bring on a hike: a map, compass, or GPS device. They're like your trail GPS, helping you stay on track and avoid getting lost. Safety is all about being prepared, my friend, so keep those essentials in your backpack.
Lastly, follow Leave No Trace principles. It's like leaving a place better than you found it. Pack out all your trash, stay on the trail to prevent erosion, and respect the local flora and fauna. By doing so, you're not only keeping yourself safe but also preserving the beauty of nature for future hikers. So, enjoy your hike, stay safe, and never forget those things to bring on a hike that keep you prepared for whatever adventure lies ahead!
What I Have in My Bag
Watch this video as I take you through what I have in my hiking bag at all times. This is an ever-evolving list and I add to it as I can.
Packing it All Up
There you have it, 11 indispensable items to bring on your hike. I couldn't resist rounding up the number, and I appreciate you for taking the extra step to explore this article.
Equipping yourself with the right gear is the cornerstone of a rewarding hiking adventure. By adhering to this essential checklist, you're arming yourself with the tools to handle any trial situation. From dependable hiking boots to a trusty backpack, each item plays a vital role in ensuring your comfort, safety, and overall enjoyment. So, make sure to pack these essentials before embarking on your next hiking excursion!
Wishing you memorable hikes filled with adventure and preparedness!
Ready to gear up? Shop now and happy hiking!
F.A.Q
What are the essential things to bring on a hike?
The essential things to bring on a hike include a sturdy backpack, comfortable hiking boots, a map and compass for navigation, plenty of water, energy-rich snacks, sunscreen, insect repellent, a first aid kit, and a multi-purpose tool like a Swiss Army knife.
How do I choose the right backpack for hiking?
When choosing a backpack for hiking, consider its capacity, fit, and features. Look for a backpack with enough capacity to hold all your gear, adjustable shoulder straps and hip belts for a comfortable fit, features like multiple compartments, external attachment points for gear, and hydration system compatibility.
What type of clothing is best for hiking?
Opt for moisture-wicking and breathable clothing made from synthetic or merino wool materials. Layering is key, so wear a moisture-wicking base layer, an insulating mid-layer, and a water-resistant outer layer. Don't forget to wear sturdy hiking socks, a hat, and sunglasses for sun protection.
Are trekking poles necessary for hiking?
Trekking poles can be beneficial for hiking, especially on challenging terrains or long hikes. They provide stability, reduce strain on your joints, and help with balance. Consider adjustable trekking poles made from lightweight materials that can be easily stored when not in use.